Commercial Moving Services
Providing Moving Services for Businesses throughout the Ohio Valley Region
Bell Moving & Storage makes moving simple and efficient for businesses throughout the Cincinnati, Columbus, Northern Kentucky, and South Eastern Indiana areas. We are a full-service moving company with nearly 100 years of experience.
Our commercial moving services are performed by highly professional, highly trained teams, capable of moving your business and its belonging with all care and timeliness you need to keep your business running smoothly.
COMPUTER MOVING
BULKY ITEM MOVING
UNPACKING SERVICES
Planning Your Office Move
Much is at stake on commercial or office moves and lost downtime could cost your company thousands of dollars. Bell offers a variety of commercial services that minimize downtime and disruption, so you and your co-workers can get back to work easily and quickly. We fully plan every component of the relocation with the focus on minimizing disruption before, during, and after your move.
Our crews are fully trained to properly move computers, servers, desks, filing cabinets, and more. We can even help eliminate the need to pack and unpack filing cabinets and desks by utilizing specialized equipment, saving your company time, and reducing the possibility of missing or misplaced files.
Protecting Your Belongings & Equipment
Moving with a trusted moving company is the best way to protect your belongings and equipment during an office move. Our experience with packing and transporting office equipment for variety of organizations makes our service unique. Our Commercial Division has coordinated moves for companies big and small in the Greater Cincinnati and Columbus, Ohio areas, as well as a number of prominent colleges and universities, including University of Cincinnati, Miami University, University of Kentucky, Wright State, and others.
In addition, our modern fleet of trucks is maintained to the highest standards to ensure new, dependable equipment is on the job. All trucks feature air-ride suspension systems to limit the impact of road hazards during transportation assuring a smooth ride for your goods.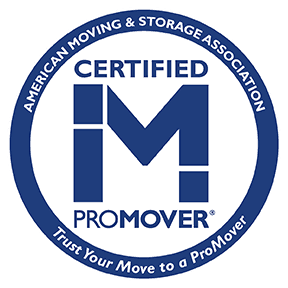 Credibility Sets Us Apart
Certified PROMOVER by the American Moving & Storage Association. So you know your move is in good hands.