Are you getting ready for living in Cincinnati but not sure which neighborhood to call home? Mt. Airy is one of the most beautiful and affordable neighborhoods in Cincinnati yet often overlooked for the more central neighborhoods. Mount Airy Cincinnati is known for the Mt. Airy Forest, the largest park in Cincinnati. Moving to Mt. Airy may be perfect for you if you love the outdoors and open space but don't want to be far from downtown. Here's what you can look forward to ahead of living in Mt. Airy, Cincinnati's greenest neighborhood!
Where Is Mt Airy Cincinnati?
Mount Airy is the 7th largest Cincinnati neighborhood and located in northern Cincinnati, where it's bordered by the neighborhoods of College Hill to the east and Northside to the south. It's also bordered by the Monfort Heights CDP to the west. While living in Mount Airy, you'll enjoy a short commute. It's just 8 miles from Mount Airy to Downtown Cincinnati along Colerain Avenue and I-75.
Mount Airy is mostly car-dependent, but it is served by the Cincinnati Go Metro bus system. You can learn more about Cincinnati public transportation here. The neighborhood is ideally located for getting around the area and served by I-74 (which terminates in the community), Colerain Avenue (Hwy 27), which connects to I-75, and Highway 52 which connects to Central Parkway (US 42 north), and I-275 which serves the Greater Cincinnati area.
Map of Mt. Airy, Cincinnati
Mt. Airy History & Overview
Like many neighborhoods in Cincinnati, Mt. Airy was once a separate village. It was incorporated as a village in 1865 from land granted by Green and Mill Creek townships. In 1911, Mount Airy was annexed by Cincinnati. At the time, it had a population of almost 900. The neighborhood grew slowly but steadily, reaching a peak population of almost 11,900 by 1970. Over the next decade, Mt. Airy lost 20% of its population and has since hovered around its present population of 9,200.
The iconic Mt. Airy Water Towers, a castle-like structure and landmark of the community, was built in 1927 and remains a critical component of the Cincinnati water system. The same year Mt. Airy was annexed, the Mount Airy Forest was established as one of the country's earliest examples of urban reforestation. At the time, the area suffered from poor soil quality and significant erosion due to irresponsible clearing, cattle grazing, and agricultural use in the 19th century. Today, the park boasts 269 acres of wetlands, 170 acres of meadows, 200 acres of forested evergreens, and 700 acres of reforested hardwoods.
The 1,500-acre park remains the largest park in the Cincinnati Parks system and dominates the neighborhood.
The Mount Airy flag features the Mt. Airy Water Towers flanked by two trees that symbolize the Mt. Airy Forest.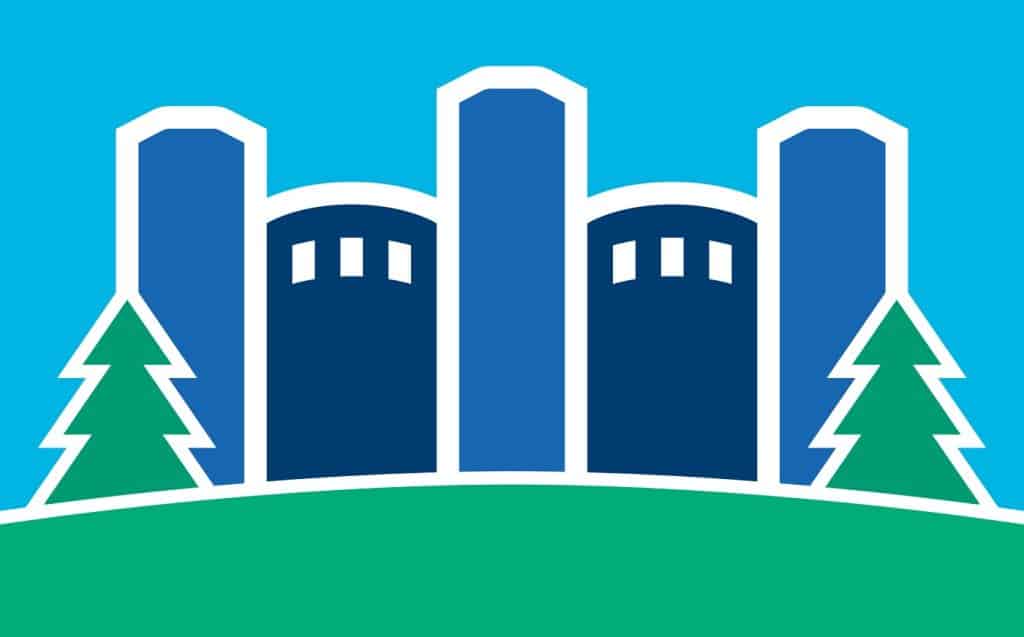 Mt. Airy, Cincinnati has experienced a great deal of decline over the past few decades, but it's changing for the better thanks to dedicated community activists. The business district along Colerain Ave, once suffering from traffic and empty storefronts, is now bustling with foot traffic and new businesses. The Mount Airy Commons development was a major achievement, adding convenient shopping and a community gathering spot to the neighborhood. Mt. Airy CURE, the nonprofit dedicated to improving the Mount Airy neighborhood, has also completed new art installations, safety improvements, and other neighborhood improvement plans.
Mt. Airy Cincinnati demographics (2020 census):
Population: 9,210
Educational attainment (bachelor's degree or higher): 30%
Median household income: $27,920
Racial and ethnic composition: 61.7% Black or African American, 26.6% White, 6.7% Asian, 4.7% Hispanic, 6.5% other race, and 11.7% two or more races
What's it Like Living in Mt. Airy?
A 1980s brochure for Mount Airy described it as "Almost Country … in the City!" That's still true today. After moving to Mt. Airy, you'll enjoy a close-knit community with volunteer organizations that work to better the neighborhood. The community is home to many families who appreciate the affordability, space, and good schools in the area. Living in Mount Airy is a dream come true for outdoor enthusiasts thanks to the large Mt. Airy Forest with hiking trails, disc golf, and more.
Many residents work in the northern Cincinnati area, downtown, or even in Kentucky, thanks to the neighborhood's excellent transportation. It's only 11 minutes to downtown Cincinnati and 25 minutes to Hebron, Kentucky. The most common occupations for residents include management (22%), service occupations (22%), education, health care, and social assistance (22%), and production and materials transportation (17%).
View this post on Instagram
Things to Do in Mt. Airy – Shopping, Restaurants & Attractions in Mt. Airy Cincinnati
After moving to Mt. Airy, Cincinnati, you'll find plenty to do to keep you busy! The most famous Mt. Airy attraction is the Mt. Airy Forest. The crown jewel of the Cincinnati Parks system, this 1,459-acre park features a massive manmade forest, miles of hiking trails, disc golf, a mountain biking trail, a dog park, an arboretum, and its most famous attraction: Everybody's Tree House. The Mt. Airy Treehouse, completed in 2003, is more than 100 square feet, 14' tall, and connected to 12 trees. It's the Tri-State area's only public treehouse and wheelchair accessible via a series of ramps. The 30-acre Mt. Airy Arboretum is a hidden gem and boasts a large collection of flowers, shrubs, and trees with a picturesque lake and gazebos.
You'll find many great restaurants and locally owned businesses to explore. Giovanni's Family Italian Restaurant is a family-friendly Mt. Airy restaurant for pizza and classic Italian entrees. You'll definitely pay many visits to Putz's Creamy Whip during the summer. This family-owned business has been a Mt. Airy summer mainstay since 1938!
Mt. Airy Forest, 5083 Colerain Ave, Cincinnati, OH 45223 (513) 357-2604
Giovanni's Family Italian Restaurant, 4050 N Bend Rd, Cincinnati, OH 45211 (513) 389-9777
Putz's Creamy Whip, 2673 Putz Pl, Cincinnati, OH 45211 (513) 681-8668
Mt. Airy Cincinnati Schools
After moving to Mt Airy Cincinnati, you'll be served by Cincinnati Public Schools. Students attend elementary schools based on neighborhood attendance areas, but there are many magnet schools available too on a lottery system. The west side of Mt. Airy is served by Mt. Airy School (PK-6), while the east side is served by Pleasant Hill Academy (PK-6).
Note that Cincinnati does not have neighborhood boundaries for high schools; students can apply to the high school of their choice. Some have an entrance exam and/or lottery system.
The nearby College Hill Fundamental Academy (PK-6) and Fairview-Clifton German Language School (K-6) are magnet schools with a lottery system. Fairview-Clifton is one of the best elementary schools in Cincinnati! There are several city-wide magnet schools and magnet schools for West Side communities like Mt. Airy. You can learn more from CPS.
Families can also choose from many highly rated Cincinnati private schools nearby, including La Salle High School, St. Boniface School, St. Ignatius School, and DePaul Cristo Rey High School.
Is Mt. Airy, Cincinnati Safe?
Mount Airy, Cincinnati is a safe place to live with minimal crime. According to the Cincinnati Police Department, between January 1 and March 6, there were 8 Part 1 violent crimes and 56 Part 1 property crimes in Mount Airy. Theft was the most commonly reported Part 1 offense with 18 car thefts, 16 thefts from vehicles, and 14 other thefts reported during the three-month period.
You can see the Mt. Airy crime report here with a breakdown of reported crimes and location. You can also learn more about the Cincinnati crime rate and how it compares to crime in Mt. Airy.
Mt. Airy Cincinnati Real Estate – Average Home Prices & Rent
One of the most important things to consider before moving to Mount Airy is the cost of living and available housing. Mt. Airy has a homeownership rate of 35.4%, lower than 37.8% for Cincinnati, with almost 65% of people living in Mt Airy Cincinnati renting.
Most Mt. Airy, Cincinnati homes were built in the 1950s, 60s, and 70s, but there are hundreds of historic homes in Mt Airy and a small number of newer construction built in the last decade. You'll find mostly single-family homes and apartments in the neighborhood.
The median home price in Mt. Airy is $205,000, up 26% year-over-year. About 60% of homes sell over list price, but homes take an average of 46 days to sell. You can expect to pay an average of $134 per square foot.
As a renter, you'll appreciate affordable average rent in Mt. Airy. The average rent for apartments in Mount Airy Cincinnati is $1,031 compared to $1,259 for Cincinnati. One of the most desirable communities for renters is The Views of Mount Airy, an apartment complex with a park-like setting and playgrounds right across from Mt. Airy Forest.
Does living in Mt Airy sound perfect for you? Bell Moving & Storage is here to help you get settled into your new neighborhood without the stress and hard work. Give our Cincinnati movers a call today to schedule a free, personalized moving quote!