Springfield is a city in Southwestern Ohio. First occupied by the Shawnee Tribe in the 1700s, Springfield was the site of many historical battles and events. The city was officially founded by European-American settlers in 1801 and has been growing ever since. Today, citizens living in Springfield enjoy the beautiful nature, affordable real estate, and low cost of living. Springfield is known for its proximity to major cities such as Columbus and Dayton, as well as its top-rated colleges, Wittenberg University and Clark State College. These benefits as well as many others make Springfield a good place to live.
Where Is Springfield?
Springfield is in Clark County and is the county seat of the Springfield Metropolitan Statistical Area. Springfield is situated on the Mad River, Buck Creek, and Beaver Creek and is bordered by the areas of Lawrenceville, Tremont City, Northridge, Donnelsville, and Clifton.
Springfield is close to many major Ohio cities. It is 80.4 miles from Springfield Ohio to Cincinnati Ohio and 45.5 miles from Springfield to Columbus. It is only 27.4 miles from Springfield to Dayton OH, making it a popular area for city commuters to live.
The Springfield City Area Transit (SCAT) is an affordable bus system that has many routes within the Springfield area. However, there is no public transportation heading out of city lines. Therefore, the best way to get around and out of Springfield is by car.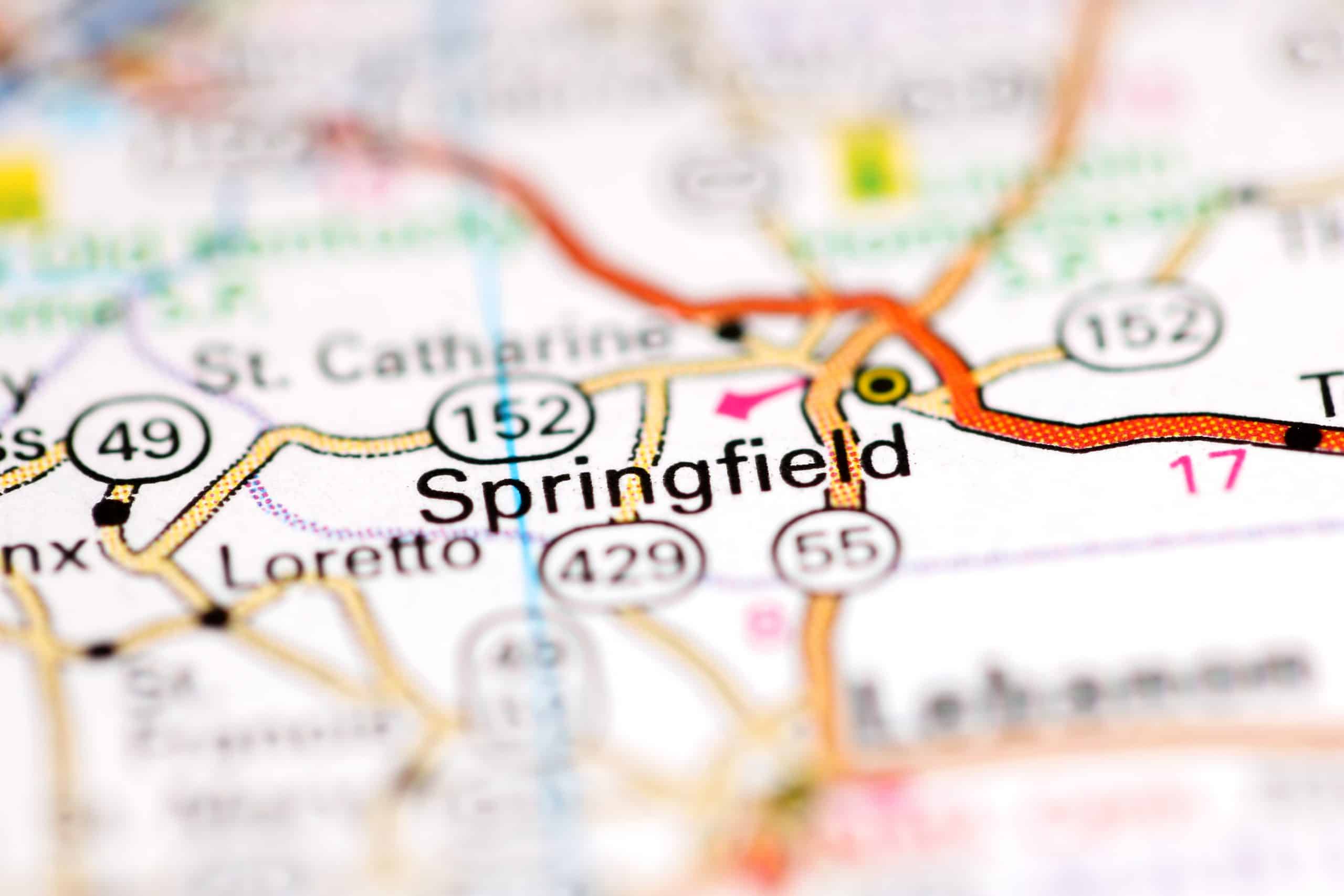 Springfield Population & Demographics
The Springfield OH population is 58,662. It is the largest city in the Springfield Metropolitan Statistical Area, with a total population of 136,001. Many notable people were born and raised in Springfield, including Ohio governor Mike DeWine, actor Jonathan Winters, and MLB player Dave Burba.
Springfield Demographics:
Sex ratio: 53% female, 47% male
Median age: 36.3
Racial and ethnic composition: 70.6% White, 17.5% Black or African American, 6.8% two or more races, 4.7% Hispanic or Latino, 0.8% Asian, 0.1% American Indian
Median household income: $42,131 (compared to the Ohio average of $61,938)
Educational attainment: 85.8% high school degree (or higher), 15.1% bachelor's degree (or higher)
Foreign-born population: 2.5%
Is Springfield Ohio safe? The Springfield Ohio crime rate is 5,711 crimes per 100,000 people. This is 164.5% higher than the state average and 143.4% higher than the national average. The violent crime rate is 576 per 100,000 people, which is 86.5% higher than the state average and 48.5% higher than the national average. The property crime rate is 5,135 per 100,000 people. This is 177.5% higher than the state average and 162.2% higher than the national average. Although the crime rate in Springfield is high, most of the crime is concentrated in a few neighborhoods where there may be gang-related activity. As such, Springfield is a safe place to live. The city recently selected a new police chief who plans to decrease the crime rate. Springfield has also undergone many renovations over the past decade, making it a safer place year after year.
After moving to Springfield, you will be protected by the Springfield Police Department, which has 124 officers on the force.
Cost of Living in Springfield OH
Springfield Ohio is a very affordable place to live. The Cost of Living Index, or COLI, in Springfield is 75.9. This means Springfield is 24.1% more affordable than the national average COLI of 100.
According to the Economic Policy Institute, a family of four would need to earn $72,456 per year to afford to live in Springfield. This averages out to $6,038 per month.
Typical Springfield Living Expenses
Average Springfield utilities per month: $175.00
Gallon of milk: $3.39
Loaf of bread: $1.69
Gym membership: $25.00
Child care (per month): $1,169
Movie ticket: $15.00
Source: Numbeo
On the hunt for Springfield OH homes for sale? According to Redfin, the Springfield average home price is $100,000, which is much lower than the national average of $388,100. Although the homes are priced low, the Springfield Ohio real estate market is booming. Houses in Springfield only sit on the market for an average of 24 days.
Looking to rent Springfield real estate? The average rent in Springfield Ohio is $838. This is much cheaper than many other large cities nearby such as Dayton where the average rent is $972, or Cincinnati, where the average rent is $1,259. The most affordable neighborhoods in Springfield are Bellaire, Belmont Meadows, and Burnett Acres, where the average rent is $811. The most expensive neighborhoods in Springfield are Woodhouse, Wrenwood Farms, and Yorkshire, where the rent averages out to $846 per month.
Springfield OH Neighborhoods | Where to Live in Springfield
There is something for everyone when moving to Springfield. Some of the most popular neighborhoods include Villa Run, Downtown Springfield, and Sunnyland.
Villa Run | Quiet Neighborhood Perfect for Retirees
If you are moving to Springfield to retire or settle down, then check out the peaceful neighborhood of Villa Run. This small neighborhood is close to shopping and other basic necessities, but still far away from the hustle and bustle of the city. It is located right next to the top-rated Oakwood Village Senior Living Center.
Downtown Springfield | Busy Area Great for Young Professionals
If you enjoy apartment living, then Downtown Springfield is the place to be. Living in the heart of downtown means that you are always just a short walk away from some of the city's best dining and shopping options.
View this post on Instagram
Sunnyland | Family-Friendly Community Close to Schools and Parks
Moving to Springfield with kids? The beautiful neighborhood of Sunnyland is right next to Virgil A. Mabra Park and Perrin Woods Elementary School. Sunnyland is well-lit and has one of the lowest neighborhood crime rates in the city.
Springfield Ohio Weather & Climate
According to the Köppen Classification, Springfield has a humid subtropical climate. This means that the Springfield Ohio weather is all over the map, with hot, humid summers and cool to mild winters. The hottest month of the year in Springfield is July, with and average high of 84ºF. The coldest month is January, with an average low of 22ºF.
If you enjoy snow, then you'll love living in Springfield. The city sees an average annual snowfall of 20 inches. Springfield is also known for experiencing severe thunderstorms at times. Many homes are equipped with basements for storm protection.
Things to Do in Springfield OH
There is no shortage of fun things to do in Springfield Ohio. You can complete your grocery shopping at stores like Kroger and Meijer, and there are plenty of retail options such as The Springfield Plaza Shopping Center and Northland Plaza Shopping Center. Here are just a few can't-miss Springfield attractions.
Looking for things to do in Springfield with kids? Snyder Park can keep your family entertained all day with activities such as a children's water park, multiple playgrounds, hiking trails, and historic architectural structures.
Snyder Park, Snyder St, Springfield, OH 45504, (937) 328-7275
The Springfield Museum of Art is the only Smithsonian Affiliate museum in the state of Ohio. This museum offers eight galleries as well as workshops and classes. The museum is free for military veterans, students, and visitors under 17.
Springfield Musuem of Art, 107 Cliff Park Rd, Springfield, OH 45504, (937) 325-4673
View this post on Instagram
The Hartman Rock Garden offers both guided and self-guided tours of a folk-art garden featuring over 250,000 stones. The garden was originally created in 1932-1944 and has since been restored for everyone to enjoy.
Hartman Rock Garden, 1905 Russell Ave, Springfield, OH 45506
Additional Attractions in Springfield
Unsure of what to do in Springfield? The National Trail Parks & Recreation District manages over 1,100 acres of beautiful parks for you to enjoy. You can also check out the Springfield City Calendar for upcoming events in the area.
Springfield Ohio Restaurants
There is no shortage of incredible Springfield restaurants. You can find nearly every type of cuisine in this city. Here are some of the best restaurants in Springfield Ohio.
Located in the heart of Downtown Springfield, Los Mariachis is an upbeat, family-owned restaurant offering tradition Mexican dishes and margaritas by the pitcher.
Los Mariachis, 1815 E Main St, Springfield, OH 45503, (937) 324-2066
For over 70 years, The Hickory Inn has been serving up pizza, pasta, salads, and seafood to the citizens of Springfield. This restaurant is a can't miss when living in Springfield.
The Hickory Inn, 652 N Limestone St, Springfield, OH 45503, (937) 323-1779
Speakeasy Ramen is one of the hidden gems of Springfield. This small restaurant is home to some of the best Japanese and Vietnamese food in the whole state of Ohio. Speakeasy Ramen is close to Wittenberg University, and is a favorite among college students!
Speakeasy Ramen, 365 Ludlow Ave, Springfield, OH 45505, (937) 324-3722
View this post on Instagram
Jobs in Springfield
The job market in Springfield is very diverse. Many Springfield jobs are in the healthcare, manufacturing, transportation, financial, and education industries. Some of the top employers in the area include Mercy Health, Springfield City Schools, and Wittenberg University.
According to PayScale, the average salary in Springfield is $58,000. Looking for jobs in Springfield Ohio? Try checking out the city job board or search for 'Springfield Ohio jobs' on Indeed.
Springfield OH Schools
Springfield is served by the Springfield City School District. SCSD serves nearly 8,000 students and operates ten elementary schools, three middle schools, and one high school. There are many private schools in Springfield, including Emmanual Christian Academy, Springfield Christian School, and Nightingale Montessori.
Springfield is home to one of the most highly-rated liberal arts colleges in the country, Wittenberg University. Wittenberg is a four-year private university with a yearly enrollment of nearly 1,500 students. Clark State College is also located in Springfield. This college offers over 200 majors at a highly affordable price.
Students and residents living in Springfield have access to the Clark County Public Library System.
Springfield Statistics & Information
County: Clark County
Springfield area: 26.36 square miles
Springfield zip code: 45501-45506
Springfield area code(s): 937, 326
Springfield elevation: 978 feet
Springfield time zone: Eastern Time Zone (EST)
Closest airport to Springfield: Dayton International Airport (DAY), 25.8 miles away
Springfield OH Map
Explore more things to do, restaurants, and amenities with this map of Springfield.
If you are ready to make the move to Springfield, then let our Springfield OH movers help you. Our experienced movers can help with all of your relocation needs. Call Bell Moving today at 614-662-4220 for a free estimate!