The area known as Monfort Heights, OH is a census-designated place located about 9 miles northwest of downtown Cincinnati. Monfort Heights is bordered by Cheviot, Bridgetown, Dent, White Oak, Mount Healthy, North College Hill, Covedale, Dry Ridge, Groesbeck, Mack, Northbrook, Northgate, Skyline Acres, and Taylor Creek.
What is now called Monfort Heights was previously called by the name Wisenburg. In March 1900, a post office came to the area and the community was named Monfort for a short time after Captain E.R. Monfort, who was a Civil War hero. As the area continued to grow, residents later voted to rename the town Monfort Heights.
The community of Monfort Heights is best known for being home to the first McDonald's in the Cincinnati area when it was opened in 1959. Owner Lou Groen invented the iconic Filet-O-Fish sandwich at this location in an attempt to pull in Catholic customers during lent and on the weekends.
Among the notable people who have lived in Monfort Heights, music and TV star Bonnie Lou was a long-time resident of the area.
1. People Living in Monfort Heights, OH – Population & Demographics
How many people live in Monfort Heights? The area has seen minimal growth in the past decade with only about 1,500 new residents moving to Monfort Heights since 2010. The current Monfort Heights population is 12,962 people with a median age of 41 years old.
Monfort Heights demographics show limited diversity with around 84% Caucasian, 12% Black or African American, 1% Asian, and 1% Hispanic or Latino. The gender ratio in Monfort Heights is 54% female and 46% male. The median household income in Monfort Heights is $71,038, setting it right around the national average.
Monfort Heights covers about 5.9 square miles right in the center of Hamilton County in Ohio. Local zip codes in Monfort Heights include 45211, 45223, 45239, 45247, and 45248. Monfort Heights phone numbers have a 513 area code.
Is Monfort Heights a safe place to live? Among the more secure Cincinnati suburbs, Monfort Heights has a crime rate that is 36% lower than the national average. The violent crime rate in Monfort Heights is 47% lower than average with a 1 in 63 chance of becoming a victim of crime. It's important to do research before moving to Monfort Heights, but it does have plenty of safe places to live. Monfort Heights is a safe place to live.
2. Cost of Living in Monfort Heights, OH
How much does it cost to live in Monfort Heights, OH? The average cost of living in Monfort Heights is 11% lower than the national average but about 6% higher than the Ohio state average, so this is still an affordable place to live. Newcomers can plan on paying more for expenses like groceries, local transportation, and the Monfort Heights real estate market. On the other hand, healthcare and home utilities cost less in Monfort Heights.
The homeownership rate in Monfort Heights is 77.8%. Local Monfort Heights, OH homes for sale are in a somewhat competitive market as they sell pretty quickly. The average price of a home in Monfort Heights is $205,000.
Just over 22% of people residing in Monfort Heights rent their living spaces. The average price of rent in Monfort Heights is $810, an affordable rate even after rising 6% in the past year.
3. Monfort Heights Neighborhoods
Where should you live in Monfort Heights? Comfortable Monfort Heights neighborhoods are separated into the designated areas of Monfort Heights East and Monfort Heights South.
As people move to the area, they will quickly find the community has plenty of convenient shopping in Monfort Heights such as Sam's Club, Target, Old Navy, Kroger, and the North Bend Crossing Shopping Center.
4. Monfort Heights, OH Weather
The humid continental climate in Monfort Heights is similar to the big city of Cincinnati as the area has warm, muggy summers and freezing cold winters. Monfort Heights weather gets pretty soggy at times with about 45 inches of annual rainfall and around 17 inches of snow per year.
The average temperature in Monfort Heights tends to stay between the mid-60s and upper 80s in the summertime. Winters in Monfort Heights see these temps dip dramatically into the low 20s and low 40s.
5. Things to Do in Monfort Heights
Outdoor activities and fun places to visit can be found across the entire area when it comes to searching for the best things to do in Monfort Heights.
View this post on Instagram
The outdoor paradise of Mt. Airy Forest is a dream for people who like to spend their time outside. This popular Monfort Heights attraction is a great place to visit for hiking, biking, and horseback riding. The area offers visitors a large treehouse, a disc golf course, and a local dog park.
Mt. Airy Forest, 5083 Colerain Ave, Cincinnati, OH 45223  (513) 357-2604
Known simply as The Place, some of the top activities in Monfort Heights can all be found under one roof. Ranked among the most fun Monfort Heights activities, this destination includes roller skating, a ropes course, laser tags, bumper cars, climbing walls, and a video game arcade.
The Place,3211 Lina Pl, Cincinnati, OH 45239  (513) 522-2424
Additional Monfort Heights Attractions
6. Monfort Heights Restaurants
If you're looking for great places to eat and the top-rated restaurants in Monfort Heights, you'll be pleasantly surprised at the number of options.
Anytime you're in the mood for mouthwatering Italian fare, there's no better place to eat in Monfort Heights than Giovanni's Family Italian Restaurant. The laid-back restaurant features a fantastic selection of pizzas, pasta dishes, and specialties like veal marsala.
Giovanni's Family Italian Restaurant, 4050 N Bend Rd, Cincinnati, OH 45211  (513) 389-9777
View this post on Instagram
Whenever you need a big, juicy burger, Bob Evans is the place you'll want to go. Considered one of Monfort Heights's top places to eat, the restaurant also offers diners additional menu choices like turkey, fried chicken, soups, salads, desserts, as well as breakfast dishes.
Bob Evans, 5245 N Bend Rd, Cincinnati, OH 45247  (513) 661-3321
7. Jobs in Monfort Heights
The average salary in Monfort Heights is $88,000 per year. The state income tax rate in Monfort Heights is 3.5% per Ohio numbers. The current Monfort Heights unemployment rate is 4.4%.
You'll find lots of Monfort Heights jobs can be found with big-name brands as well as a handful of small, local businesses. The best places to work in Monfort Heights and nearby are:
FedEx

Silco Fire & Security

Geico
If you are moving to Monfort Heights and plan on commuting to the big city, the trip from Monfort Heights to Cincinnati is about 9 miles and takes 20 minutes.
Be sure to check out Indeed if you are on the lookout for local jobs in Monfort Heights.
8. Monfort Heights Schools
More than 3,370 children between the ages of 0 and 18 years old are living in Monfort Heights, adding up to just over one-fourth of the population. Monfort Heights is an excellent place for families to live with its kid-friendly neighborhoods and reputable school programs.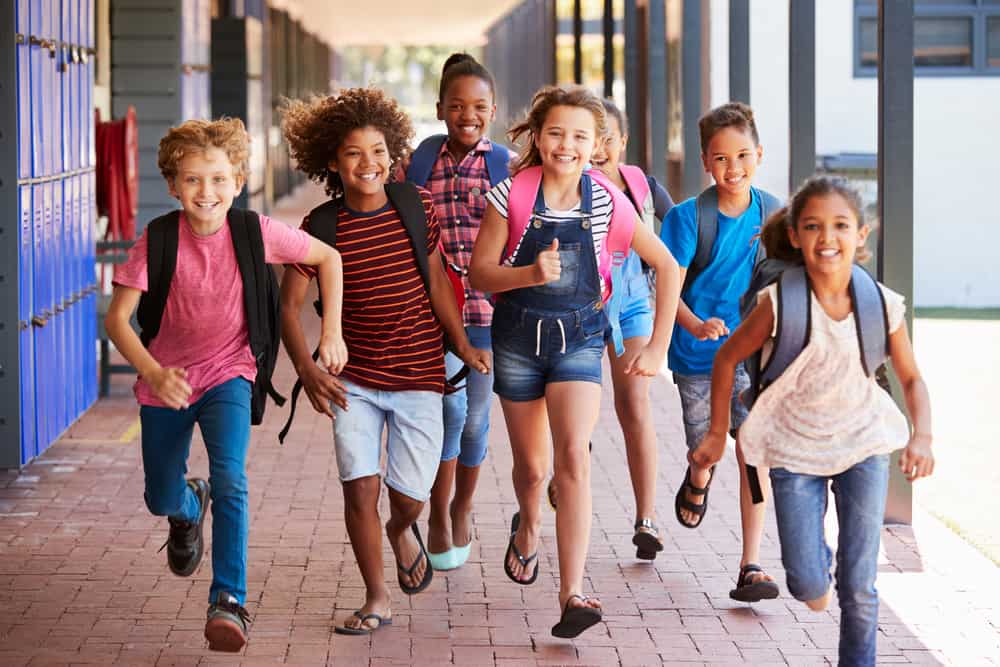 The Northwest Local School District serves the area with some of the top Monfort Heights schools including:
Monfort Heights Elementary

White Oak Middle School
The nearest colleges and universities you'll find close to Monfort Heights are Xavier University, the Good Samaritan College of Nursing and Health Science, and the University of Cincinnati.
Students will love to visit the Monfort Heights Library.
Living in Monfort Heights Pros & Cons
Pro:

Monfort Heights is considered one of the safer communities to live in around Cincinnati.

Pro:

The area is conveniently located right down the road from the city, making for a quick commute.

Con:

While it isn't extremely high, the cost of living in Monfort Heights is a bit more than the state average.
Moving to Monfort Heights, OH
Considering the wide range of benefits that come with living in Monfort Heights, it's no surprise that people are thinking about moving there. If you're preparing for a relocation to or from this part of town, get some help from the reliable Monfort Heights movers here at Bell Moving! Give us a call today at (513) 942-7500 or fill out the Request a Quote form on this page for a free moving estimate!