Considered part of the Greater Cincinnati Metropolitan Area, the city of Florence, KY is located about 12 miles southwest of downtown Cincinnati. Florence borders the cities of Burlington, Erlanger, Independence, and Union.
Because it was once a drive-through area with many major streets, the area of Florence was previously known as Crossroads. In later years, the community was also called Maddentown and Connersville, eventually taking on its current title of Florence in January 1830.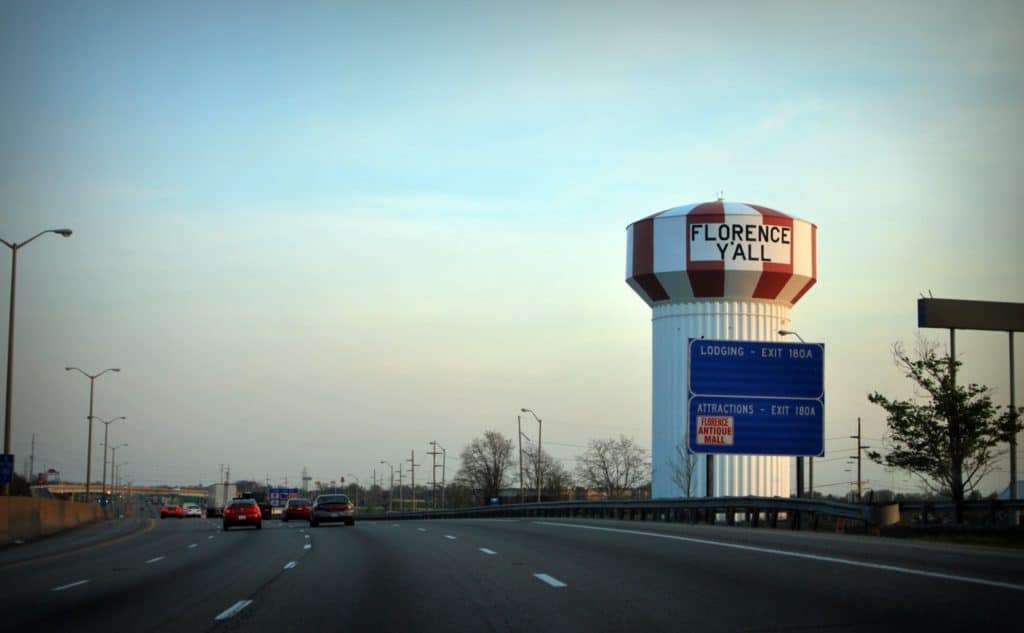 Florence is known for its landmark "Florence Y'all" water tower that can be seen from the I-71 and I-75. It's a great place to live and has been home to a handful of notable people like former NFL player Shaun Alexander as well as the country singer Kenny Price.
1. People of Florence, KY – Population & Demographics
The city hasn't seen a ton of growth over the years with the current population in Florence of 32,369 residents and a median age of 38 years old. 
Florence demographics prove the area has limited diversity with the population made up of 85% Caucasian, 6% Black or African American, 4% Hispanic or Latino, and 3% Asian. Of these numbers, about half the population is male and half are female with a nearly perfect 50-50 gender ratio. The median household income in Florence is $57,041.
2. Things to Do in Florence
Fun activities can be found in every corner of Florence with great local amenities like Stringtown Park. This open area offers tables for picnics, a playground for kids, walking trails, and even exercise stations. Get out and enjoy some fresh air with a jog or bring your children to Stringtown Park to expel some energy.
Stringtown Park, 7340 Burlington Pike, Florence, KY 41042  (859) 371-5491
Turfway Park offers a Kentucky-style tradition with its thoroughbred horse racing. This local track houses a nice restaurant and offers affordable prices to see races and attend other fun events. Pick your favorite horse and bet on the race or simply enjoy the scene and exciting atmosphere.
View this post on Instagram
Turfway Park, 7500 Turfway Rd, Florence, KY 41042  (859) 371-0200
Additional Florence Attractions
3. Florence Restaurants
You'll always have great places to eat in Florence thanks to top-rated restaurants like Smokin' This and That BBQ. Decorated with various Americana, this popular location boasts a menu filled with BBQ plates that will have your mouth watering. Some of their top dishes include wings, ribs, tacos, sliders, and more.
View this post on Instagram
Smokin' This and That BBQ, 10020 Demia Way, Florence, KY 41042  (859) 817-0492
At Drake's, you'll find yet another one of the best restaurants in Florence with its contemporary setting. With a dining room and bar, you can feast on delicious meals and pair it with your choice of a refreshing drink. Choose from scrumptious menu items such as burgers, steaks, sandwiches, sushi, salads, and more.
View this post on Instagram
Drake's Florence, 6805 Houston Rd, Florence, KY 41042  (859) 869-4840
4. Cost of Living in Florence, KY
Expenses in Florence have prices hovering in between state and national averages. The cost of living in Florence is about 10% lower than the United State average but about 7% higher than the Kentucky average. Overall, residents living in Florence pay more for groceries, utilities, transportation, healthcare, and real estate.
The homeownership rate in Florence is 53%, meaning about half of the residents have purchased their living spaces. The average price of a home in Florence is $215,000, which calculates out to a median sale price of $124 per square foot. If you are looking into Florence, KY homes for sale, plan on paying an average down payment of 5%.
People residing in Florence who lease their homes and apartments get fair pricing that fits the area. The average price of rent in Florence is $1,134 per month, a slight decrease from last year. You should expect to pay about $871 per month for a one-bedroom apartment and around $1,132 per month for a two-bedroom location.
5. Florence Neighborhoods
Is Florence, KY safe? Ranked among the top 25 safest cities in Kentucky, many communities in Florence are comfortable and secure places to live. The violent crime rate in Florence is 56% lower than the national average. The chance of becoming a victim of any crime in Florence is 40 per 1,000 residents.
Top-rated neighborhoods in Florence include: 
Hopeful Heights

Plantation Pointe
Florence, KY covers a small area of 10.7 square miles along the eastern border of Boone County. Zip codes in Florence include 41018, 41042, 41091, and 41094. The most common Florence area code is 859.
People moving to Florence will find it has a good range of convenient shopping destinations such as Walmart, Florence Plaza, Target, Walgreens, Florence Mall, Kroger Marketplace, as well as the local Village at the Mall Shopping Center.
6. Florence Schools
With over 8,000 children under the age of 18 years old living in Florence, these kids make up about one-fourth of the local population. The majority of students in the area attend schools within the Boone County School District, where parents are pleased with the overall quality of education.
The best schools in Florence are:
Ockerman Elementary School

Florence Elementary School

Ockerman Middle School

Boone County High School
For anyone looking to take college courses or get their degree, Thomas More University is located about 6 miles away from Florence in Crestview Hills. There are also a wide variety of secondary schools in Cincinnati as well.
7. Jobs in Florence
Will you be looking for a job after relocating to Florence? With plenty of options in town and nearby in Cincinnati, the average salary in Florence is $61,000.
Some of the biggest employers offer Florence jobs include:
Procter & Gamble

Patni Computer Systems

St. Elizabeth Healthcare

Fidelity

Cengage
You can easily commute from Florence to Cincinnati, OH since it is only about 12 miles away and often takes less than 20 minutes to get there.
8. Florence, KY Weather
With its humid continental type of climate, the weather in Florence can be warm and muggy as well as cold and wet. Florence gets about 43 inches of rain per year along with around 18 inches of snow during the winter months.
View this post on Instagram
Summers bring warm Florence weather as temperatures vary between average lows in the mid-60s and highs in the upper 80s. Wintertime can get freezing as temperatures drop to the low 20s at night and get into the upper 30s during the day.
Living in Florence Pros & Cons
Pro:

An affordable cost of living when compared to the national average.

Pro:

Quiet neighborhoods give residents peace of mind within their safe communities.

Con:

Prepare for freezing, wet winters if you plan on residing in Florence.
Moving to Florence, KY
Will you be relocating to Florence soon to make this beautiful place your new home? Let the dependable Florence movers here at Bell Moving handle the transition to make it much easier on you! Get in touch with us today by calling (513) 942-7500 or take a moment to fill out the Request a Quote form on this page for a free moving estimate!