The community of Dent, OH is a census-designated place located in Green Township, which is located about 14 miles northwest of downtown Cincinnati. It is bordered by Bridgetown, Grandview, Mack, Monfort Heights, Taylor Creek, White Oak, Cheviot, Covedale, Dry Ridge, Groesbeck, Miami Heights, Miamitown, and Northgate.
This area was founded in the 19th century and was first called Challensville after Rev. James Challenge, a local minister. A state representative named Charles Reemelin changed the name to Dent in 1846. He chose the name based on its geographical location in a valley or a "dent" in the earth.
Dent is known for its large Veterans Park, which spans 25 acres in the community and offers fun for all ages.
Dent is a good place to live for everyone from seniors and young singles to growing families. This guide will tell you precisely what to know before moving to Dent so you can decide if living there is a good choice.
1. People Living in Dent, OH – Population & Demographics
How many people live in Dent? There has been minimal growth over the past decade with only a few people relocating to Dent since 2010. The Dent population is 11,332 locals with a median age of 39 years old.
Dent demographics have limited diversity as the area has about 93% Caucasian, 3% Black or African American, 2% Hispanic or Latino, and 1% Asian. While there is a close split with the local gender ratio, women have a slight advantage with about 52% female and 48% male.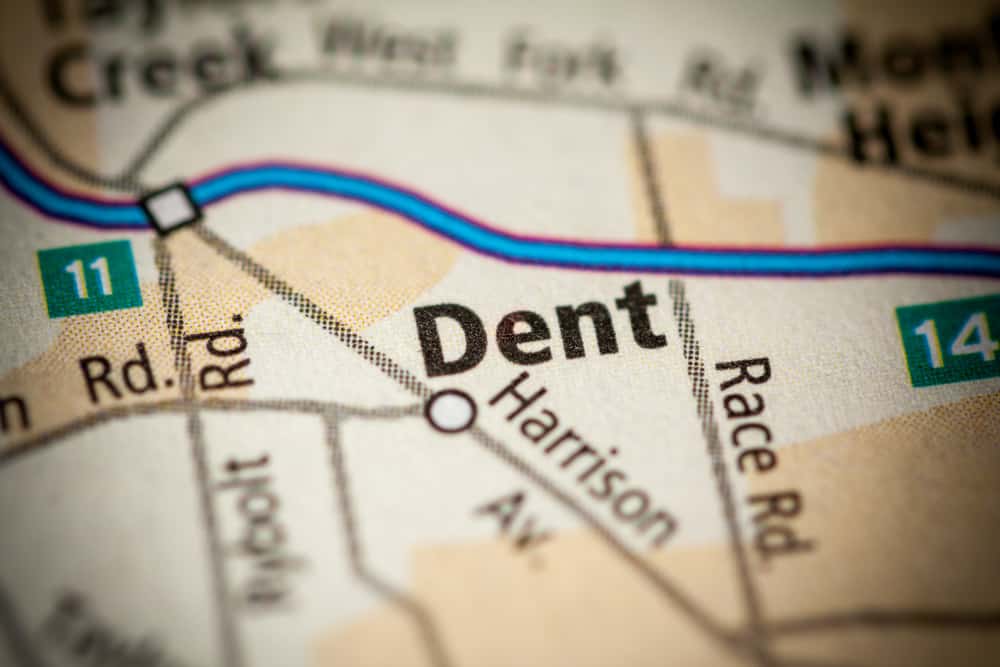 There is a median household income in Dent of $80,786 per year.
Is Dent a safe place to live? With a  crime rate in Dent 39% lower than the Ohio average and 44% lower than the national average, Dent is a safe place to live. The community is full of secure neighborhoods and residents are protected by the Green Township Police Department.
2. Cost of Living in Dent, OH
How much does it cost to live in Dent, OH? The average cost of living in Dent is approximately 12% lower than the US average but is also about 5% higher than the Ohio state average. The Dent real estate market, groceries, and transportation costs are more expensive, while healthcare and utilities are more affordable.
The homeownership rate in Dent is 77.7% with more than ¾ of residents purchasing a property. Local Dent, OH homes for sale are part of a somewhat competitive housing market. The average price of a home in Dent is $190,000 with a median sale price of $124 per square foot.
The Dent property tax rate is 1.810%, which means owners of a $190,000 home can expect to pay $3,765 of property taxes in a year.
The remaining 22% of people living in Dent rent or lease houses or apartments. The average price of rent in Dent is $875 per month, which changes based on the area and amenities that are offered close by.
3. Dent Neighborhoods | Where to Live in Dent
Where should you live in Dent? Although it isn't a large community, you'll easily find plenty of safe neighborhoods in Dent such as:
Hampton Ridge

Taylors Creek

West Hills

Monte Carlo
There are two local parks in Dent, which are managed, maintained, and monitored by the Cincinnati Recreation Commission.
People relocating to the community will find convenient shopping in Dent at locations like Lowes, Kroger, Kohls, Walgreens, and the Manchester Plaza.
Dent is 14 miles from Cincinnati and for anyone who plans to commute from Dent to Cincinnati, the quick trip only takes 20 minutes.
If any residents want to travel from Dent to Columbus, it is a 114-mile drive, taking about 1 hour and 45 minutes in each direction.
4. Dent, OH Weather & Climate
The average temperature in Dent during the peak of summer is between the mid-60s at night and the upper 80s around noon. Once the cold winters come along, these temperatures drop significantly to lows in the 20s and highs that stay under 40°F on average.
There is a humid continental climate in Dent so newcomers should plan on getting about 45 inches of rain and 17 inches of snow per year. Dent weather tends to require umbrellas and warm gear like scarves, hats, and thick coats during the colder months.
5. Things to Do in Dent
Find the can't miss things to do in Dent so you can experience the area's many fun attractions, places to visit, and outdoor activities.
View this post on Instagram
One of the top points of interest in Dent is the entertainment found at the Cinemark Western Hills 14 movie theater. This chain offers visitors the chance to catch both new releases and occasional classic movies while enjoying stadium seats and yummy concessions options.
Cinemark Western Hills 14, 5870 Harrison Ave, Cincinnati, OH 45248  (513) 574-4315
Among the most unique Dent attractions, The Dent Schoolhouse is a fun and engaging haunted house which changes to various themes throughout the year. The destination features guided ghost tours through the schoolhouse, which is an old school believed by some to be haunted.
The Dent Schoolhouse, 5963 Harrison Ave, Cincinnati, OH 45248  (513) 445-9767
Additional Dent Attractions
6. Dent Restaurants
Relocating to Dent comes with many perks, one of which is the great places to eat that you'll find around the community.
View this post on Instagram
Skyline Chili is rated among the best restaurants in Dent and is recognized for its laid-back diners. Their menu includes a wide variety of soups, salads, coneys, burritos, wraps, bowls, and their specialty Greek chili.
Skyline Chili, 6485 Harrison Ave, Dent, OH 45247  (513) 598-9798
One of Dent's top-rated places to eat is El Rancho Grande, a popular Mexican chain that the whole family will enjoy. They offer visitors a scrumptious selection of classic fare like chorizo, tamales, taquitos, fajitas, carne asada, burritos, enchiladas, and tacos.
El Rancho Grande – Harrison,6121 Harrison Ave, Cincinnati, OH 45247  (513) 574-2164
7. Jobs in Dent
For those who may be on the hunt for local Dent jobs, the community has numerous employers offering positions both in town and nearby in Cincinnati. A few of the best places to work in Dent are:
University of Cincinnati

Cincinnati Children's Hospital Medical Center
The average salary in Dent is $34,819 a year. The town has a variable state income tax rate that ranges from 2.19% up to 4.797%. The Dent unemployment rate is 3.5%, with is lower than the national average.
8. Dent Schools
About 26% of the population residing in Dent are children as the area has more than 2,946 kids between the ages of 0 and 18 years old. Between the reputable schools and safe, comfortable communities, Dent is an excellent place for families to live.
The majority of local schools in Dent are part of the Oak Hills School District including:
Charles W Elementary School

Bridgetown Middle School
The closest colleges and universities to Dent are Mount St. Joseph University as well as the Good Samaritan College of Nursing and Health Science
There is a free public Green Township Branch Library in town that offers locals the opportunity to check out books and movies.
9. Dent Statistics & Information
Dent covers about 5.9 square miles near the center of Hamilton County in Ohio. The community includes zip codes of 45002, 45247, and 45248. Phone numbers in the area tend to have 513 area codes.
The time zone in Dent is Eastern Standard Time (EST), which shifts to Eastern Daylight Time (EDT) when daylight savings time rolls around each year.
The elevation in Dent is 843 feet above sea level.
Map of Dent, OH
Discover what else the area has to offer residents with the help of this trusty Dent map.
Tips for Living in Dent
As one of the safest communities in the area, Dent is a family-friendly place to live.

While the area doesn't get huge amounts of snow, you'll still want warm gear during the winter.

Since the cost of living in Dent is a bit higher than the state average, double-check that local expenses are in your budget.
Moving to Dent, OH
There's little doubt that relocating to Dent comes with a variety of advantages that make it a fun and cozy place to call home. Whenever you need assistance from dependable Dent movers, trust the team at Bell Moving to handle the job. Give us a call today at (513) 942-7500 or fill out the Request a Quote form on this page for a free moving estimate!