Frequently recognized as one of the best suburbs in Cincinnati, the small community of Mount Adams offers its residents comfortable living and plenty of convenient perks. This hip Cincinnati neighborhood is home to many millennials and is a popular location for commuters who want easy access to downtown.
Newcomers may be wondering if Mount Adams is a good place to live and will quickly find there are many benefits to the area.
Before moving to Mount Adams, you'll love learning about some interesting facts and other reasons why locals love it here.
History of Mount Adams in Cincinnati, OH
Recognized as a geographical landmark in Cincinnati, Mount Adams was originally known as Mount Ida. This former title was based on a woman named Ida Martin who once lived in a hollow sycamore tree on the hill.
The majority of the area was purchased in 1831 by a wealthy attorney named Nicholas Longworth. He decided to develop the land as a winery vineyard and found great success in this endeavor. Operating for over 32 years, the area thrived as a winemaking hub and many claimed Longworth's wine was even better than French champagne.
After Longworth passed away, the area was renamed after former U.S. President John Quincy Adams because he dedicated the area's Cincinnati Observatory in 1843. From the point, the area began to develop in a bustling neighborhood. One of the biggest impacts came when the Mount Adams Incline railroad track was finished in 1872, linking the community with downtown Cincinnati.
As the late 1960s rolled around, developers began to make renovations and improvements to the Cincinnati suburb in an effort to attract more people who may be interested in moving to Mount Adams. Since that time, it has become one of the wealthiest communities in the Cincinnati metro area.
Mount Adams Location & Transportation
Although the area takes up less than one square mile, Mount Adams is a multi-use neighborhood in Cincinnati. It is conveniently located about 2 miles east of downtown with its physical boundaries located along the Ohio River and the Kentucky border. Mount Adams is also adjacent to other local communities such as Mount Auburn, East Walnut Hills, and the Central Business District.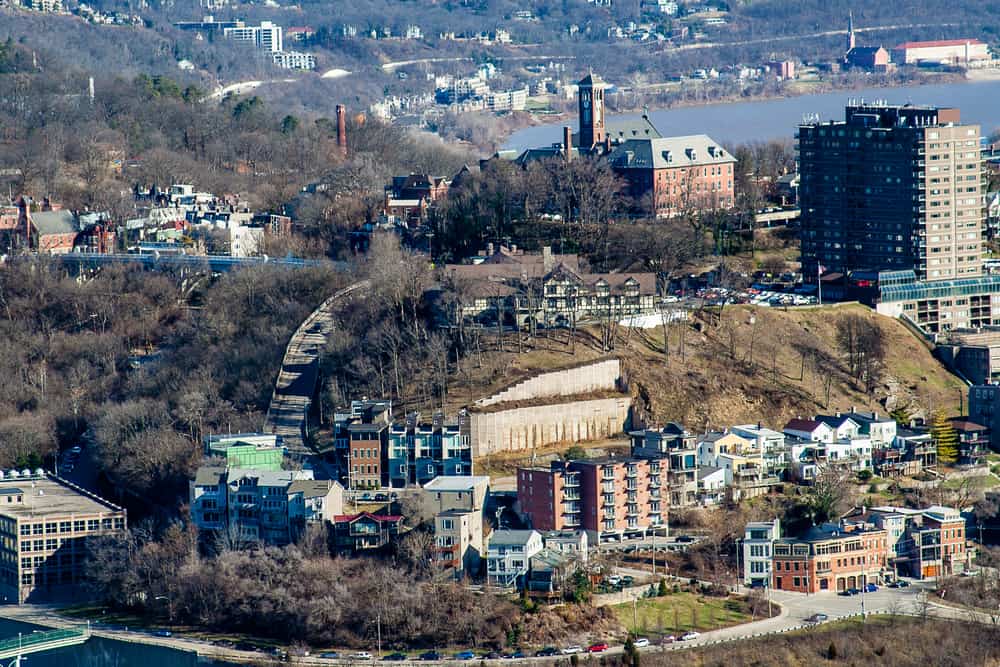 Covering the two zip codes of 45202 and 45206, Mount Adams is easy to get around. Like other residents of Cincinnati, people living in Mount Adams enjoy a reliable public transportation system. This includes the use of personal vehicles and rideshare programs such as Uber and Lyft. The neighborhood is directly connected to nearby freeways including the I-71, I-471, and the US-50, making it a convenient location to get in or out of town.
Mount Adams has made many lists of the top neighborhoods in Cincinnati due to convenience, pleasant atmosphere, and classy residents.
People & Culture of Mount Adams
Wondering who lives in Mount Adams? With a small population of only about 1,703 residents, the biggest portion of the Mount Adams residency is in their mid to late 20s. About 39% of locals are between 22-39 years old, while nearly 35% are between 40-64 years old.
Out of about 1,025 households, more than half of them are singles. Only 89 total Mount Adams households are families with children. While this may not be a hub for many families, it is clearly a popular place to live for millennials.
Mount Adams demographics prove the area currently has pretty limited diversity as it is made up of about 94% Caucasian, 3.3% Black or African American, and 1.4% Asian.
Known for being an affluent Cincinnati community, the median household income in Mount Adams is $107,793. About 78% of residents living in Mount Adams are employed. There is a small 2.3% unemployment rate and about the remaining 19.8% are not in the labor force. The most common local jobs include positions in business management, sales, healthcare, engineering, and administrative support.
Thanks to its low crime rate and ever-improving neighborhood, Mount Adams is also one of the safest communities in Cincinnati.
Places to Eat, Things to Do, & Shopping in Mount Adams
People moving to Mount Adams can expect a great spread of popular places to eat, exciting amenities, and convenient locations to shop. These many destinations provide locals with a wide variety of things to do in Mount Adams.
Great Restaurants
Easily atop the list of the best restaurants in Mount Adams is a location known as the Mt. Adams Bar & Grill. Having once been a speakeasy illegal bar during the prohibition era, it became a legal entity in 1941 and is now recognized as a local landmark with a warm, vintage feel. Diners will have a full menu to choose from including burgers and fries, sandwiches, chicken wings, grilled salmon, and much more.
View this post on Instagram
Another one of the top places to eat in Mount Adams is Montgomery Inn The Boathouse. This delicious restaurant is located in an old boathouse along the Ohio River. It is massively popular and features a huge selection of mouthwatering BBQ plates from ribs and pulled pork to BBQ chicken and various steaks.
Fun Local Activities
Once you're residing in Mount Adams, you're going to want to know about all the best activities in the area. Among the most fun options is the Cincinnati Art Museum with its art exhibits, various collections, seasonal events, and more. As one of the best free things to do in Mount Adams, you can easily keep up with their events calendar to see what is coming up on the agenda.
View this post on Instagram
If you are moving to Mount Adams, one place you simply have to visit is Cincinnati Playhouse in the Park. This live theatre venue has featured shows and popular plays such as 20,000 Leagues Under the Sea, Steel Magnolias, Murder on the Orient Express, The West End, A Christmas Carol, and many others. It is a smaller space with only about 225 seats but the cozy location makes it easy to enjoy a great view of the stage from any angle.
Residents living in Mount Adams also enjoy visiting Eden Park on the north side of town to experience its many activities.
Convenient Shopping Destinations
While shopping is limited within the small area of Mount Adams, there are plenty of great places to shop close by in downtown Cincy. There you'll find stores like Saks Fifth Avenue as well as the downtown mall. For grocery shopping, you'll have convenient options nearby such as United Dairy Farmers and the local Kroger market.
If you're ever up for a short trip across the Taylor Southgate Bridge into Newport, Kentucky, you could always stop by the Newport on the Levee shopping center as well. It is less than three miles away and boasts a fun variety of shops, restaurants, and even an aquarium.
List of Mount Adams Amenities on the Map
Mount Adams Real Estate
Whether you are looking to buy a house or simply rent an apartment, there are plenty of residency options available for people living in Mount Adams.
Newcomers moving to the area who plan to buy a house can expect to find a median home listing price in Mount Adams of about $450,000. These properties tend to sell for an average of about $201 per square foot at about 3.1% less than the listed price.
One of the biggest benefits of relocating to Mount Adams is the real estate market. It is not a very competitive area for homebuyers, making it a bit easier to look around and find the home you want. Homes for sale in Mount Adams generally spend an average of around 158 days on the market, giving you more than enough time to check out your options.
Locals residing in Mount Adams also has a good supply of choices if they want to lease their living space. The overall average price of rent in Mount Adams is about $1,587 per month. Pricing will vary between a studio for around $755 per month up to $2,195 per month for a larger three-bedroom location.
Living in Mount Adams is Worth Every Penny
Is relocating to Mount Adams the right decision for you? We have a professional team of reliable Mount Adams movers who are standing by to assist you. Contact Bell Moving & Storage today by calling (513) 942-7500 or complete the Request a Quote form on this page for a free moving estimate!