Home to the ever-popular Kings Island theme park, the city of Mason, OH has a lot going for it. Located about 24 miles northeast of Cincinnati, this cozy suburb can be found near other towns like King Mills, Landon, and Wetherington.
Mason is known for hosting both the Western & Southern Open tennis tournaments every year. They are held at the Lindner Family Tennis Center, which remains one of the biggest tennis stadiums across the world. Men and women travel from all over to compete in this popular sporting event.
If you are searching for a great place to live with easy access to Cincinnati, moving to Mason might be the perfect answer for you. Check out this complete guide to learn more about living in Mason and everything that comes with it. 
1. People of Mason – Population & Demographics
The area has seen substantial growth over the past few decades as the Mason population is currently home to about 32,317 people with a median age of 42 years old. Mason offers its residents safe, comfortable living for all ages.
The gender ratio in Mason is nearly identical between men and women, with a split of 49.83% female and 50.17% male. Mason demographics show limited diversity as the population houses about 81% Caucasian, 11% Asian, and 4% Hispanic or Latino. 
2. Things to Do in Mason
Although residents living in Mason have easy access to activities in Cincinnati, you will find plenty of attractions in town as well. One of the most popular things to do in Mason is to enjoy a day at Kings Island, where you can ride roller coasters, view dinosaur exhibits and enjoy yummy snacks all over the amusement park. It is also home to a water park, wave pool, and water slides.
View this post on Instagram
Kings Island, 6300 Kings Island Dr, Mason, OH 45040
(513) 754-5700
Another great place to visit in Mason at any time of year is Corwin M Nixon Park. During the summer, you can visit the arboretum or go fishing at one of the lakes. While wintertime presents opportunities for tubing and sledding in the snow. 
View this post on Instagram
Corwin M Nixon Park, 6249 Mason Montgomery Rd, Mason, OH 45040
(513) 229-8550
3. Mason Restaurants & Places to Eat
In between all of your work and play, you will likely want to know about the best places to eat in Mason. If you are ever craving a great slice of pizza, one of the top Mason restaurants is Two Cities Pizza Co. Also on their Italian menu, diners will have additional choices of salads, calzones, and customized pizza pies.
View this post on Instagram
Two Cities Pizza Co, 202 W Main St, Mason, OH 45040
(513) 770-0000
Those in the mood for some delicious Mexican food will love the traditional cuisine found at El Caporal. Your tastebuds will have a fiesta as you enjoy savory dishes such as nachos, quesadillas, tacos, and fajitas. Make sure you wash it all down with a margarita or another drink from their full-service bar.
El Caporal – Mexican Bar and Grill
View this post on Instagram
El Caporal, 6011 Tylersville Rd, Mason, OH 45040
(513) 336-7947
4. Cost of Living in Mason
Recognized as one of the more wealthy cities in the state, the cost of living in Mason is about 22% more expensive than the Ohio average. While the cost of local home utilities is lower, people relocating to Mason should plan to have higher expenses for healthcare, groceries, transportation, and their living arrangements.
When it comes to the local housing market, one look at Mason, OH homes for sale will show you that the area has some nice houses with a bit of a higher price tag. The average price of a home in Mason is $306,751, which has risen by about 3% in the past year and is expected to jump 7.4% in the next 12 months.
While there are only about 19% of people residing in Mason leasing their apartments and condos, there are still a variety of options around town. The average price of rent in Mason ranges from $1,404 per month for a two-bedroom to $1,750 for a four-bedroom living space.
5. Mason Neighborhoods
As the 13th safest city in Ohio, communities in Mason offer residents peace of mind and security as they travel from place to place. Covering a small area of only about 19 square miles, it isn't hard to find comfortable neighborhoods in Mason.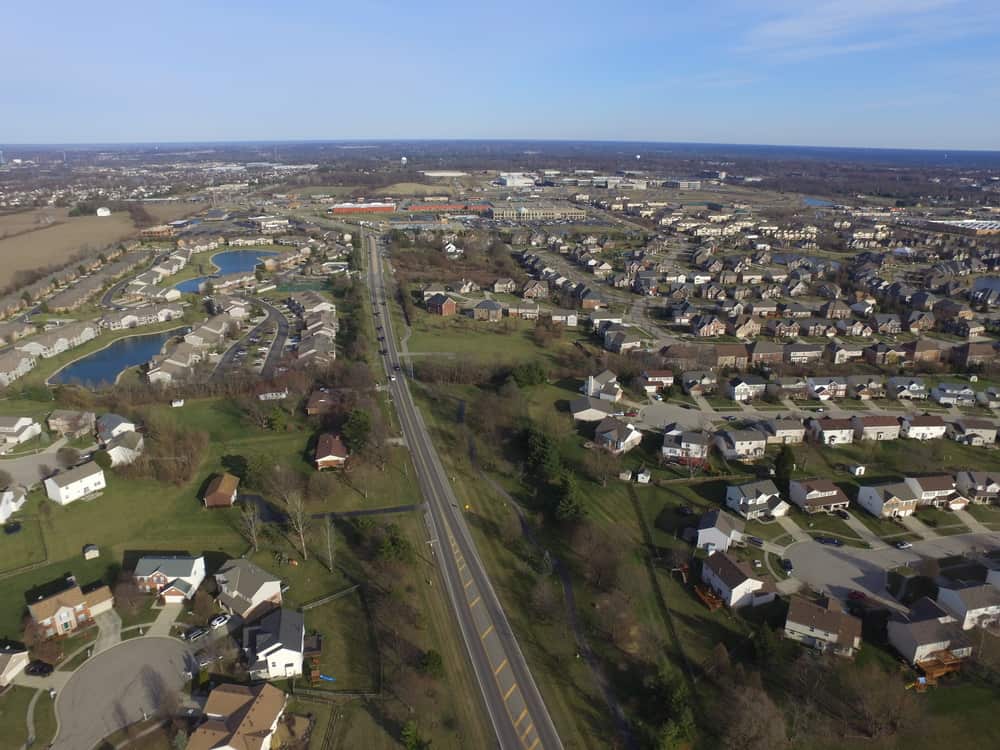 Some of the top Mason communities you should look into are:
The Reserves of Carmelle

Cross Creek

Crooked Tree Preserve 

Ambleside Meadows
Located on the southwest corner of Warren County, zip codes in Mason include  45036, 45039, and 45040. The area code for your new phone number after switching to Mason will be 513. 
Places like Kroger, Walgreens, Thortons, PetSmart, Walmart Supercenter and Shoppes of Mason offer local residents a handful of shopping options to fit every need.
6. Mason Schools
Adding up to nearly 21% of the Mason population, there are over 6,600 children between the ages of 5 and 17 living in the area. The Mason City School District offers a reliable education system that parents will appreciate.
The most popular options for schools in Mason include:
Mason Intermediate Elementary School

Western Row Elementary School

Mason Middle School

William Mason High School (ranked among top 8 high schools in Ohio)

Kings High School
Although there are no colleges within Mason's borders, nearby colleges such as Xavier University and the University of Cincinnati are both only about 20 miles away.
7. Jobs in Mason
As a suburb with easy access to the big city nearby, it is common for locals to commute from Mason to Cincinnati, OH, which is about 25 miles away. But people who prefer to work closer to home will be happy to know there is also a wide range of Mason jobs in town. This affluent community has a median household income of $93,872.
Some of the largest employers you will find in Mason are:
Cintas 

The Christ Hospital Outpatient Center – Mason
8. Mason Weather
Temperatures in Mason vary between the low 60s and mid-80s during the summer and the low 20s to the upper 30s in winter. The weather in Mason experiences about 42 inches of rain and 13 inches of snow per year.
Depending on the time of year, residents living in Mason have multiple outdoor activities they can enjoy. Along with Kings Island, other fun destinations include local city parks, the Great Wolf Lodge Water Park, and The Beach Waterpark.
Tips for Moving to Mason
Join one of the fastest-growing suburbs of Cincinnati.

Make sure you experience all the exciting things to do and places to eat.

Anticipate a higher cost of living than other parts of Ohio.

Strong job market both in Mason and nearby in the big city.

Bring warm jackets and boots to be prepared for freezing winters.
Already planning on moving to Mason? The crew of efficient Mason movers here at Bell Moving & Storage is ready to serve you at any time of year. Call our team today at (513) 952-8130 to learn more or fill out the Request a Quote form at the top of this page to get a free moving estimate!