Known for being the most wealthy city in the state of Ohio as well as the 17th most affluent city in the United States, it's hard to miss the many benefits of living in Indian Hill. This gorgeous Cincinnati suburb is located about 14 miles northeast of town near other cities like Madeira, Milford, and Terrace Park.
Learn interesting facts about the area and whether moving to Indian Hill is a good fit for you and for your wallet.
1. People of Indian Hill, OH – Population & Demographics
While the area saw its biggest spurt of growth between 1990 and 2000, the Indian Hill population is now about 5,853 people. The area has only seen minor changes since the turn of the century and the median age is 47 years old. Residents in the area are wealthy and for the most part, keep to themselves within the community.
Over the years, Indian Hill demographics haven't fluctuated much as the village is made up of nearly 86% Caucasian, 9% Asian, and 3% Hispanic or Latino. There is a noticeable difference in the gender split for people living in Indian Hill with about 54.24% female and 45.76% male.
2. Entertaining Things to Do in Indian Hill
After relocating to Indian Hill, you'll obviously want to know about the best activities in Indian Hill. If you're looking for a good laugh, don't miss out on a visit to the Go Bananas Comedy Club and enjoy a performance from both professional and amateur comedians. Sit back, order a drink, and relax while performers crack jokes and make fun of current events.
View this post on Instagram
Go Bananas Comedy Club, 8410 Market Pl Ln, Cincinnati, OH 45242
(513) 984-9288
Anyone who wants to get out and stretch their legs will love a walk, jog, or run along the Red Bird Hollow Trailhead. As another one of the top things to do in Indian Hill, you can enjoy a stroll along the creek or get in some hearty exercise. A good portion of the trail is covered with shade, so you don't have to worry as much about the heat or sun during warm months.
View this post on Instagram
Red Bird Hollow Trailhead, 6168 Given Rd, Cincinnati, OH 45243
3. Popular Indian Hill, OH Restaurants
In such an affluent community, you're certain to find plenty of classy places to eat in Indian Hill. Locals love the laid back scene at The National Exemplar where they can dine on American-style starters and entrees that include deviled eggs, BBQ ribs, veggie burgers, blackened scallops, and French Dip au jus. Pair it up with a delicious drink from their menu and you'll leave with a smile on your face.
View this post on Instagram
The National Exemplar, 4348, 6880 Wooster Pike #2, Cincinnati, OH 45227
(513) 271-2103
In the mood for some sushi and delicious Thai food? Mixing things up a bit, Mango Tree Thai & Sushi has a unique menu that includes stir-fry noodles and curries along with shrimp, fish, and sushi. Their modern setting is comfortable and makes your dining experience one of the best restaurants in Indian Hill.
View this post on Instagram
Mango Tree Thai & Sushi, 7229 Wooster Pike, Cincinnati, OH 45227
(513) 271-0809
4. Indian Hill Cost of Living
As you might have imagined, residing in Indian Hill comes with a hefty price tag. The cost of living in Indian Hill is more than 106% higher than the United States average and even further up the scale compared to the Ohio state average. Although healthcare and utilities are slightly more affordable, people moving to Indian should plan on paying more for food, transportation, and especially real estate.
Indian Hill has an incredible 97% homeownership rate, meaning nearly everyone living there has purchased their living space. And when you consider the average price of a home in Indian Hill of $925,000, that feat is even more impressive. In the past year, the market has increased by 8% and is expected to go up more.
As you look through Indian Hill, OH homes for sale, locations start around $400,000 and reach prices as high as $4 million in some parts of town.
While only 3% of the city population rent, there are a few options available around the city for people who aren't ready to purchase yet. The average price of rent in Indian Hill is $5,894 per month depending on the size and location of the home.
5. Comfortable Indian Hill Neighborhoods
Frequently recognized as the best and most desirable suburb in Ohio, communities in Indian Hill are safe, comfortable, and well-maintained.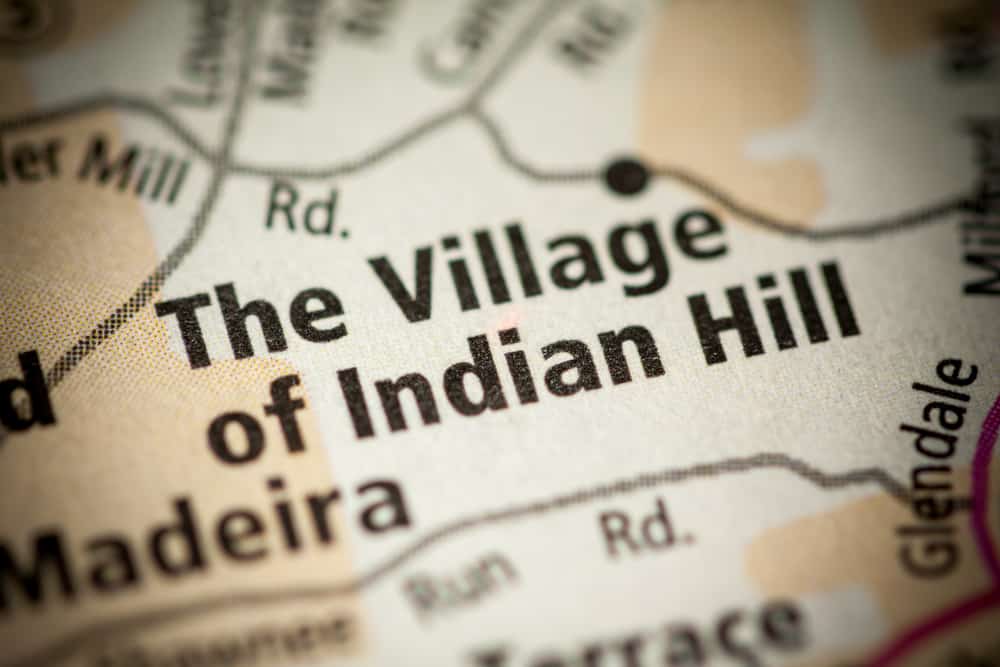 There are only a few specific neighborhoods in Indian Hill including:
Spanning 19 square miles near the eastern border of Hamilton County, the zip codes in Indian Hill are 45150, 45242, 45243, and 45249. A new phone number will have a 513 area code if you decide to change it after relocating to Indian Hill.
Also available to those living in Indian Hill are plenty of convenient destinations for shopping including Kroger, Green Acres Farm Store, Walgreens, United Dairy Farmers, CVS, and Global Seed.
6. Respected Schools in Indian Hill
Even in such a small area, there are still about 1,272 children between the ages of 5 and 17 years old living in Indian Hill. Adding up to about 22% of the local population, these students attend the three campuses within the prestigious Indian Hill Exempted Village School District.
Indian Hill schools are top-rated and include:
Indian Hill Elementary School

Indian Hill Middle School

Indian Hill High School School (ranked 5th best in the state of Ohio)
View this post on Instagram
The area is also less than 10 miles away from Xavier University, which is ranked among the top 5 universities in the midwest region of the United States.
7. Good Indian Hill Jobs
Before moving to Indian Hill, you'll need to make sure you have a career that fits the bill. A good place to start is by looking at the median household income in Indian Hill, which currently sits around $215,679. There are many great opportunities in town as well as options for those who want to commute the 14 miles from Indian Hill, OH to Cincinnati.
The most reputable jobs in Indian Hill can be found with some of the largest employers such as:
8. Weather in Indian Hill
Whether you're planning a day up at Lake Isabella or want to visit the nearby Kelley Nature Preserve, Indian Hill weather offers plenty of chances to experience local outdoor activities. Though you can expect a fair amount of precipitation throughout the year that includes 44 inches of rain and up to 15 inches of snow annually.
Temperatures vary with summer weather in Indian Hill staying warm between the low 60s and upper 80s. You should also be prepared for freezing winters that bring dropping temps from the mid-teens to the mid-30s.
Tips for Moving to Indian Hill, OH
Above all, make sure the cost of living in Indian Hill is within your budget.

Enjoy the classy lifestyle of the most affluent Ohio suburb.

Seek out the many Indian Hill amenities and places to eat.

With safe communities all over, don't worry about which neighborhood to choose.

Find top-ranked schools and established businesses serving the town.
If you're truly seeking the highest quality of life, then living in Indian Hill is likely the place for you. Among the most wealthy cities in the entire country, it has all the bells and whistles to live up to this responsibility.
Have you decided relocating to Indian Hill is the answer you've been looking for? Count on Bell Moving & Storage to complete your transition with our trusted movers. Call us today at (513) 942-7500 or fill out the Request a Quote form for a free moving estimate!