Are you thinking about moving to Columbus? Ranked as the 3rd best place to live in the state of Ohio, according to US News & World Report, Columbus is a family and kid-friendly community that is affordable and a great place to settle down. The cost of living in Columbus is 13.6% lower than the national average, making this Ohio city an affordable place to settle down. The median sale price of a home in Columbus is only $229,450, which is extremely affordable compared to the rest of the United States!
Columbus is best known for its art scene and the tech industry (growing) and is the perfect place for young adults, families, and professionals!
A few top attractions in Columbus include the Columbus Museum of Art, the Franklin Park Conservatory and Botanical Gardens, and the Legoland Discovery Center.
During the spring and summer months, the weather is warm and humid. Then in the fall and winter months, the weather is cold, cloudy, and windy. While there are plenty of wonderful neighborhoods to move to and live in this beautiful area of Ohio, here are some of the best Columbus neighborhoods!
Moving can be an exciting experience, but buying a home is even more exciting. We understand that the home-buying process can bring a range of emotions, but purchasing a piece of real estate can be nerve-racking. Following this complete house-buying guide can help give you peace of mind about buying a house in Columbus!
The Steps to Buying a House in Columbus
When you choose to work with the best real estate agent and a professional loan officer, buying a house in Columbus, OH, can be a seamless process. If you're a first time home buyer in Columbus, you might be wondering about the process of how to buy a house in Columbus. To help, here's a complete guide with highly-recommended steps that you can take to help reduce your stress during this transition.
How Much Can You Afford? How Much Does it Cost to Buy a House in Columbus?
Being a first time home buyer in Columbus might feel intimidating. Purchasing a home is a commitment and not a decision to make lightly. It requires a proper budget and planning to ensure you can afford the monthly payments. When it comes to your home budget, it's more than property taxes, maintenance, homeowners insurance, and DIY projects around the house. You have to consider the monthly utility prices for the area, gas, health care, food, electricity, and child care (if you have kids), and combine everything to get a better idea of what you can afford for a mortgage payment.
A common question during this process is "how much does it cost to buy a house in Columbus?" To help you find a good starting point, we recommend utilizing this affordability calculator to see what you can afford. Now, let's break down an example. Let's say you're a single adult that makes $100,000 and currently has a monthly debt of $750 for your student loans.
Down payment: $20,000
Debt-to-income ratio: 30%
Interest rate: 6.483%
Loan term: 360 months
Property tax: 1.48% (Based On Columbus Rate)
Home insurance: $800 per year
When entering this information into the affordability calculator, you can afford a home for up to $221,317 ($1,737 monthly payment). If you increase your down payment, don't have debt, and if you make a higher amount each year, that increases the amount of home you can afford.
Your debt-to-income ratio mustn't go above 36%, but ideally, you want to keep it at or below 30%. And at the end of the day, you don't want more than 28% going toward your Principal, Interest, Taxes & Insurance (PITI).
Each year, homeowners, on average, pay around $10,000 in unexpected home expenses throughout the United States. Before you purchase a home, please keep that in mind to ensure you have the necessary income or savings to handle anything that pops up.
Here are some examples that you should add to your budget before you buy a home:
Closing costs: When it comes to closing costs, this can add an additional $6,740-$8,970 to your final costs based on the price of the home you're purchasing.
Homeowner's insurance: On average, for a home price that's around $250,000, you can expect to pay around $1,015 per year in homeowners insurance.
Utilities: The average monthly utility bill in Columbus is $372.
Property Taxes: For Columbus, the current property tax rate is 1.48% for every $100,000 in the assessed value of your home.
The Columbus, OH median home price is $229,450. On average, a home sells within 45 days of going on the market, and the sale price per square foot is $160.
Here are some nearby cities and their median home sale price:
Grove City: $290,000
Westerville: $365,000
West Jefferson: $225,000
Hilliard: $349,500
Find The Right Mortgage And Get Pre Approved
To ensure this process is seamless, you must get preapproved before starting this journey; this helps increase your chances of having an offer accepted by the person selling the home. Make sure you look at different types of loans to ensure it matches what you're looking for and your current lifestyle. The most common types of loans are an adjustable-rate mortgage, where your monthly payment can change based on the current interest rates, conventional (this will be your Freddie Mac and Frannie Mae), and a fix-rate, which will stay the same throughout your mortgage loan.
If you're a first time home buyer in Columbus, good news. You might qualify for a home buying assistance program with the city of Columbus or the first time home buyer grants in Columbus! Here are the two most popular homebuyer assistance options in Columbus, OH.
The Columbus Down Payment Assistance is called the Columbus American Dream Down Payment Initiative (ADDI) Program. The city partners with local banks and lenders to provide funds so low and moderate-income households can become homeowners too.
You must be a first-time homebuyer (someone who has not owned a home for 3+ years) and reside in the house for a minimum of 5 years before selling or moving. During the process, you will need to provide at least $500 of your own money. After 5 years, the loan will be forgiven, and you won't have to pay back the amount you borrowed for the down payment. This program is on a first-come, first-serve basis. You'll have to be a resident of Ohio for a minimum of 6 months before applying.
HomePort is an organization that is helping individuals and families with closing costs and a down payment within the Franklin County boundary lines. You will need to meet the income requirements and receive the counseling service through the program for first-time homebuyers. To help you speed up the process, make sure you get pre-approved by your local bank for a mortgage loan. When you do this process first, it can help to better your chances of getting accepted by the homeowner.
But don't get confused between pre-qualification and pre-approval. When you are pre-approved, you have the necessary documents from the local bank (lender) saying that you got approved up to a certain amount, giving you an edge over the other applicants who skipped this step. Pre-qualified gives you an overall idea of what you can afford, it doesn't provide the paperwork.
During the pre-approval process, the lender will look at your income, your credit score, how much you plan to put towards a down payment (percentage compared to the loan), and if you have any current debt.
A good rule of thumb is the 28/36 rule. What this means is that your PITI doesn't go higher than 28% of your income and 36% of the pay you take home – this helps the bank know how much home you can afford.
Find A Columbus Real Estate Agent
Finding the perfect real estate agent for you and your needs doesn't have to be an overwhelming process. We highly recommend that you find a buyer's agent so that they will be right by your side from beginning to end.
When it comes to a buyer's agent, a few of the benefits is that they are there to answer your questions, walk you through the process, and make this process as stress-free as possible while helping you prevent and avoid any common mistakes with first-time home buyers. If you don't currently have a real estate agent, here are the top 20 Columbus, OH, real estate agents.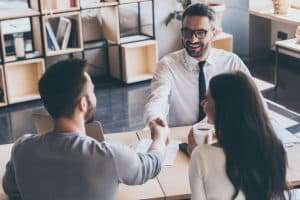 Go Columbus House Hunting
It's time for the best part of the home-buying process, house hunting in Columbus! But you might be wondering "where do I buy a home in Columbus?" Before you head out the door, it's essential to make a list of your must-haves and optional items. For example, let's say you want a contemporary house in a safe neighborhood, with a pool, and close to the local schools. By using this process, you can cut down on the number of homes you're going to see and you'll ensure your needs are being met.
To help you find the best place to buy a home in Columbus, here are some of the top communities and their median home sale price:
Bexley | Family-friendly and Historic Neighborhood: $380,000
Marble Cliff | Beautiful Nature & Homes: $270,000
Huber Ridge | Columbus Suburban: $277,500
Clintonville | The largest amusement park in the USA: $350,000
Powell | Small-town vibes & family-friendly community: $490,000
While there are plenty of Columbus neighborhoods, these are just a few examples. In addition to the features in the home, you might want to consider the areas being family and kid-friendly, having good schools, mouth-watering food, and low crime rates.
Submit an Offer
It just happened; you found your dream home! The first step will be to create an offer and submit it to the homeowners. Your agent will help you through this process. You will brainstorm to help figure out the best strategy to ensure your offer gets chosen. If the seller makes a counteroffer (fewer contingencies or a higher price), don't be worried or caught off guard because this is common.
Once both parties have agreed, then you're officially under contract. Before the final day in escrow, you will want to get an inspection and an appraisal done. Issues found during an inspection allow you to back out of the deal if the inspector discovers something seriously wrong with the house (mold, foundation problems, major roof issues, etc.).
Once the inspection is complete and you decide to move forward with the purchase, it will be time to finalize the mortgage with your lender.
Close on Your New Columbus Home
You're counting down the day till you get your keys. Once your offer is accepted and approved, you are just waiting for the bank to finalize your mortgage. This process can take anywhere from 60 to 90 days from the closing date. Before it can be final, you'll need an appraisal and inspection. After the process is complete, it will be time to meet with your real estate agent. You will sign the last of the documents, transfer the funds, and receive the ownership agreement. Then you will be handed the keys to your new home!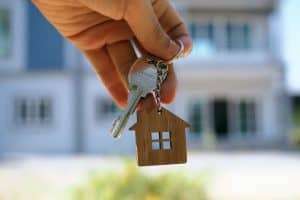 Now that you own a home, it's time to relocate your belongings. Bell Moving is a highly-trained, professional, reliable, trustworthy, and affordable Columbus moving company! With our highly trained Columbus movers, we will help make your transition into your new space as stress-free and seamless as possible. Call us today at (614) 503-0035 for a free estimate!