Hamilton, Ohio, is a peaceful town in Butler County, located about 20 miles north of Cincinnati. With a population of 62,937, it's the 2nd largest city in the Cincinnati area and the 10th largest in the state of Ohio. Known as the city of sculptures, Hamilton has over 40 sculptures all over town.
If you're considering moving to this picturesque suburb, you'll likely want to know if Hamilton, Ohio is safe. Although the Hamilton Ohio crime rate is higher than the national average, overall, it's a very safe city if you take proper precautions. Most crime in Hamilton is property crime, and the violent crime rate is roughly on par with most mid-sized American cities. Here is an in-depth look at if Hamilton is dangerous and what you should know about the crime.
Understanding the Hamilton Crime Rate – How Crime Rates Are Calculated
Before you can analyze crime data and determine whether or not a city is safe, it helps to understand how crime rates are calculated and where specific information comes from. Crime rates come from police reports that are collected and compiled by the FBI. When a crime is reported, local police departments make a note of it and send all that data to the FBI, which will release it in an annual report.
Crime stats fall into two categories: violent crime and property crime. Violent crime includes murder, attempted murder, manslaughter, assault, armed robbery, and sexual assault. Property crime includes theft, larceny, non-violent robbery, vandalism, arson, and motor vehicle theft.
Although crime rates can be a good way to quickly take stock of the general safety of an area, they are not perfect statistics and can be flawed. Even the FBI warns people against comparing crime rates from one place to another without proper context.
Some of the reasons crime stats can be misleading include:
There may be discrepancies in the way certain police departments report or categorize crime.
Crime statistics only account for the crime that is reported, while most criminal offenses go unreported.
Not all crimes are included; for example, shootings, where no one is killed or injured, are often not counted.
Crime rates typically reflect an entire city, whereas the majority of crime may be concentrated in a particular area.
Certain types of crime are highly targeted, such as gang violence or domestic abuse, so the average person wouldn't necessarily be unsafe in a given area, even if there is a high crime rate.
Crime rates often require more context than raw data can provide.
So while crime rates can be helpful in looking at how many crimes are reported in a given area, more investigation and context are needed to determine whether or not an area is safe.
View this post on Instagram
What Is the Hamilton Crime Rate?
Before deciding whether or not you want to relocate, you'll likely want to know about the crime rate in Hamilton and whether it's safe compared to the rest of the state and country. Here is a breakdown of the Hamilton Ohio crime rate based on FBI crime data from 2021 (which is the most current data available).
Total Crime: 2,493 crimes per 100,000 residents
Violent crime 256 crimes per 100,000 residents
Property Crime 2,228 crimes per 100,000 residents
Although this data can be enlightening on its own, it's important to know how it compares to the crime rate in Ohio and the rest of the country. Here is how the Hamilton crime rate compares to the statewide and nationwide averages.
Total crime: 60% higher than the state; 71% higher than the rest of the country
Violent crime: 31% higher than the state; 10% higher than the national average
Property crime: 63% higher than the state; 83% higher than the country
Overall Hamilton is safe. Even though Hamilton has a slightly higher crime rate than the rest of the country, the majority is property crime, and most criminal activity tends to be concentrated in certain areas. As long as you stay away from Hamilton's bad areas, you likely won't encounter much crime.
Hamilton Crime Map & Crime Reports
Another way to determine if Hamilton is safe is to look at a crime map and police reports. The police department publishes an annual report which contains up-to-date Hamilton crime statistics directly from the source. You can also visit the official Hamilton police department page and email them to request incident and accident reports.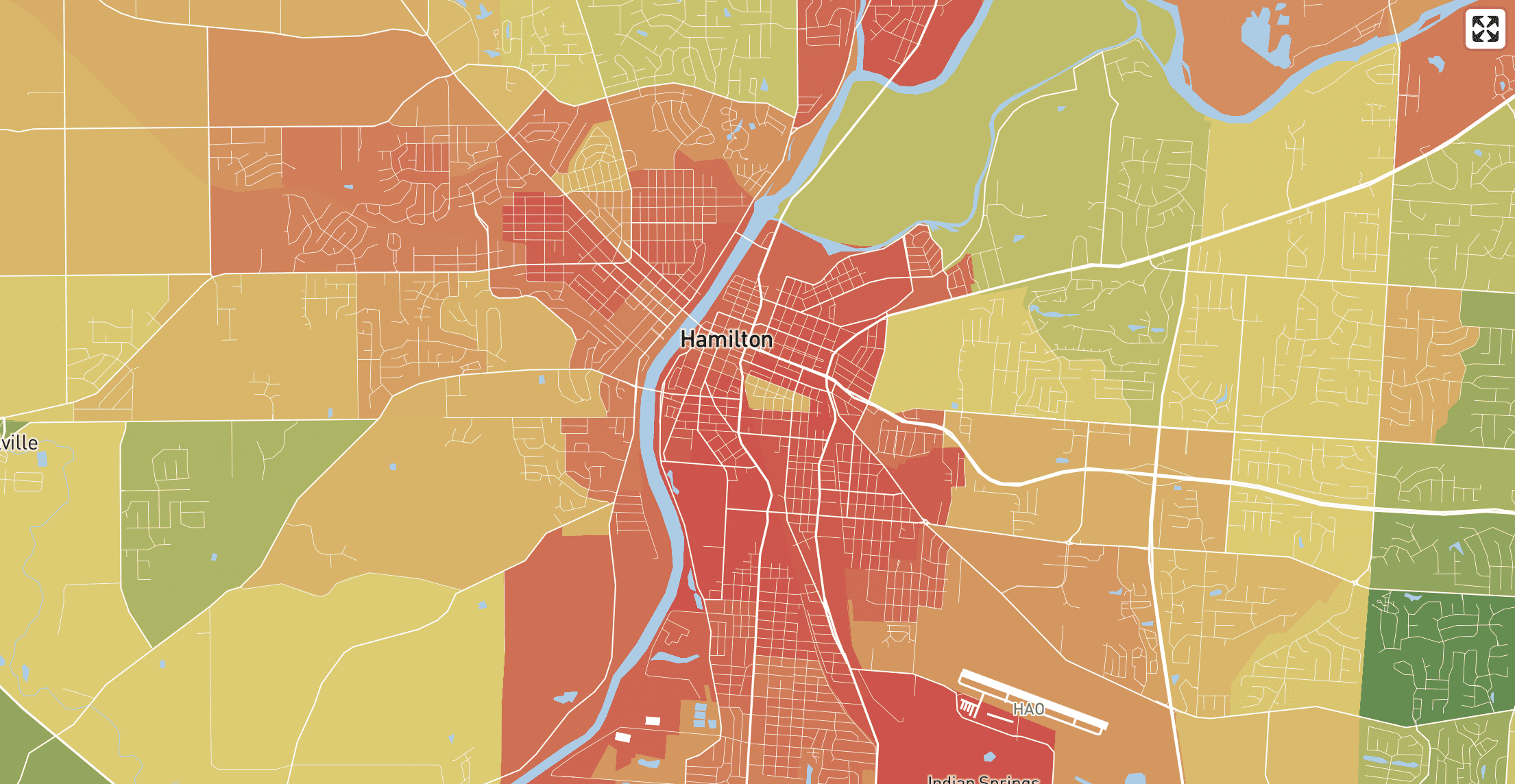 If you look at this crime map, you'll see that the high crime areas in Hamilton tend to be in the center, while the safer areas are on the outskirts. This is common in many cities as crime tends to be highest in the neighborhoods near downtown, which experience the most foot traffic.
Violent Crime in Hamilton
Usually, when you're looking for a place to live, you'll want to know about violent crime. So, here is a look at the violent crime rate in Hamilton and the number of specific crimes based on annual FBI crime data.
Hamilton's violent crime rate per 100,000 people: 265 crimes per 100,000 people
Hamilton homicide rate per 100,000 people: 6.4
Total number of Hamilton murders reported in a year: 4
Total number of Hamilton robberies reported in a year: 65
Total number of Hamilton assaults reported in a year: 156
The violent crime rate in Hamilton is 10% higher than the national average and 31% higher than the rest of Ohio. However, the Hamilton murder rate is 9% lower than the state and 1.5% lower than the national average. So, while there may be slightly more robberies and assaults, there are still fewer murders in Hamilton. That means Hamilton is safe as long as you take proper precautions.
Property Crime in Hamilton
You will likely want to know the property crime rate in Hamilton as well to feel confident that your belongings are safe. Here are a few key Hamilton property crime statistics.
Hamilton property crime rate per 100,000 people: 3,585
Total reported property crimes in a year: 2,228
Total number of Hamilton burglaries in a year: 417
Total number of Hamilton thefts in a year: 1,521
Total number of Hamilton vehicle thefts in a year: 290
While not out of control, property crime in Hamilton is 60% higher than the statewide average and 71% higher than in the rest of the country. So make sure to lock your doors and take the proper precautions when living in Hamilton.
Bad Areas in Hamilton
For the most part, Hamilton is a safe place to live. Hamilton has 17 distinct neighborhoods, all offering a unique character and a diverse range of architectural styles. But like any city, it has its good and bad neighborhoods. Here are a few of the Hamilton areas to avoid.
Downtown/CBD
Due to its central location and high foot traffic, the downtown area tends to experience the most crime, making it one of the top areas to avoid in Hamilton, especially after dark.
German Village
Located adjacent to downtown Hamilton, German Village is one of the oldest neighborhoods in Hamilton and also experiences some of the same issues, including a higher rate of property crime.
Columbia Heights
Columbia Heights is a subdivision on the Great Miami River in West Hamilton that experiences a higher crime rate than other adjacent neighborhoods.
Fordson Heights
Fordson Heights is a suburban neighborhood on the Old Ford Canal near the Greenwood Cemetery and Butler County fairgrounds that also features one of the highest crime rates in Hamilton.
East Hamilton
Situated between S. Erie Blvd and Hancock Ave near Crawford Woods, East Hamilton also tends to experience more crime than other nearby neighborhoods.
View this post on Instagram
Safest Neighborhoods in Hamilton
Although every city has its areas to avoid, there are still many wonderful neighborhoods in Hamilton that offer quiet blocks and low crime. Here are some of the safe neighborhoods in Hamilton.
Milliken | A Quiet, Suburban Hamilton Neighborhood
Milikiken is a suburban neighborhood in northwest Hamilton featuring tree-lined blocks and single-family homes constructed in the years after WWII.
Lindenwald | A Hamilton Neighborhood Full of Community Pride
Lindenwald is Hamilton's most populated neighborhood, which is famous for its many parks and diverse architectural styles.
Highland Park | One of the Safest Places to Live in Hamilton
Highland Park is a peaceful Hamilton neighborhood, blending suburban charm and urban convenience with low crime and beautiful, tree-lined streets.
Miami Hamilton Crime & Safety
Miami University has a Hamilton campus, and prospective students considering studying there will likely want to know whether the campus is safe. The Miami University Police Department works alongside Allied Universal Security Services to keep all of its campuses safe for students. 
According to the annual report published by Miami Hamilton campus security, only three incidents of crime were reported on campus in 2021, including two reports of burglary and one instance of stalking. But there were no serious violent crimes or sexual assaults.
You can contact Miami Hamilton campus security at (513) 785-3222 (or 5-3222 from any campus phone) or visit them in person at room 110 Mosler Hall, Hamilton, OH 45015.
Hamilton Police Department
The City of Hamilton Police Department monitors crime in Hamilton, with 115 sworn officers, 13 civilian employees, and eight corrections officers. The Hamilton PD received accreditation from the Commission on Accreditation for Law Enforcement Agencies in 1990, making it the 139th officially accredited law enforcement agency. It's not only maintained this prestigious honor but has also received the Meritorious Accredited Award in 2006. These honors place the department within the country's top 5% of law enforcement agencies.
View this post on Instagram
Chief of Police Craig Bucheit leads the department and reports to the Director of Public Safety, Scott Scrimizzi. Residents can request Hamilton police reports and other crime data through their official website. You can contact them on their non-emergency phone number at (513) 785-1300 or visit their headquarters at 331 S. Front Street, Hamilton, OH 45011.
Hamilton Ohio Crime Rate FAQ
Is Hamilton Safe?
Yes, Hamilton is a safe city. Although the crime rate is slightly higher than the national average, most criminal activity is property crime.
Is Hamilton safer than Cincinnati?
Yes, Hamilton is generally safer than Cincinnati. The Cincinnati crime rate is 75% higher than the national average, and a violent crime rate that is 109% higher than the rest of the US.
What Is the Hamilton Murder Rate?
According to the most recent crime data, the Hamilton murder rate is 6.4 per 100,000 residents, compared to 6.5 per 100,000 in the rest of the US.
Ready to make the move to the city of sculptures? Trust our team of experienced Hamilton movers to make your journey smooth and stress-free. Call 513-942-7500 today for a free, personalized moving estimate.