Eden Park is one of the largest and most popular parks in Cincinnati, Ohio. This hilltop urban park covers 186 acres and looks over the Ohio River valley with sweeping cityscape and river views. It's also home to several Cincinnati landmarks: the Cincinnati Art Museum, Krohn Conservatory, and Playhouse in the Park.
Ready to explore one of Cincinnati's most iconic and historic parks? This complete guide to Eden Park, Cincinnati covers everything from its history and attractions to museum and conservatory hours, special events, and programs.
Eden Park Cincinnati Overview
The 186-acre Eden Park is managed by Cincinnati Parks which manages a total of 5 regional parks, 70 neighborhood parks, two arboretums, a conservatory, 9 scenic overlooks, 5 nature centers, 34 natural areas, and 65 miles of trails.
While visiting the park, it's easy to see why Cincinnati is ranked 8th in America for parks by the Trust for Public Land. About 87% of Cincinnati residents live within a 10-minute walk of a city park compared to the national average of just 55%. A total of 16% of Cincinnati city land is dedicated to parks and recreation with 5,000 acres of city parkland.
View this post on Instagram
History of Cincinnati's Eden Park
The City of Cincinnati purchased the land that became Eden Park in 1869 from Joseph Longworth. Longworth was the son of Nicolas Longworth, a prominent horticulturalist who had used the land as a vineyard and called the estate the "Garden of Eden."
A 12-acre reservoir was built in the 1870s. The original Eden Park Station No 7 pumped water into the reservoir and the Eden Park Standpipe from the Ohio River. The large, open water basin was a popular gathering spot. When cleaned and emptied, Cincinnati residents would get dressed up and an orchestra would set up in the basin. Crowds would gather on the hillside to watch the dancing and music.
The basin was ruled a health hazard after a cholera epidemic in the 19th century. By 1866, a reservoir wall was built to separate two basins that then held 100 million gallons of water. This was still not enough to protect the water source, and this led to the creation of the Mirror Lake reflecting pool in the 1960s which remains today. The basin was excavated to create a modern, enclosed reservoir with the reflecting pool on top.
Eden Park's original design was created by famed landscape architect Adolph Strauch, known for Spring Grove Cemetery and Arboretum. The Gothic 1840s cemetery is the third largest cemetery in America. Located in Cincinnati's Northside neighborhood, it's frequently named one of the most beautiful cemeteries in the United States.
View this post on Instagram
Where Is Eden Park? | Eden Park Hours & Location
Eden Park is in the Mt. Adams and Walnut Hills neighborhoods about 3 miles northeast of Downtown Cincinnati overlooking the Ohio River.
Hours: Daily from 6am to 10pm
Phone: (513) 352-2604
Is Eden Park Cincinnati safe?
Cincinnati Eden Park is very safe to visit and partially located in Mt. Adams, one of the safest neighborhoods in Cincinnati! The area to the north and northwest is a potential area of concern for car thefts. However, residents of surrounding neighborhoods often feel safe walking their dogs and jogging in Eden Park at night.
Are dogs allowed in Eden Park?
Leashed dogs are allowed in Eden Park and other Cincinnati Parks. The leash must be no more than 6 feet long and your pup must be in your control at all times. Eden Park does not have a designated and enclosed dog park. Here are the best dog parks in Cincinnati including nearby options!
Eden Park Cincinnati Events
The City of Cincinnati and the parks department offer regular programs at all Cincinnati Parks locations.
View this post on Instagram
Eden Park Weddings – Popular Wedding Venues in Eden Park
Cincinnati Eden Park is one of the most popular locations in the city for wedding photos, engagement photos, and even weddings! There are several bookable venues for weddings in Eden Park:
Krohn Conservatory with multiple options including the Fern House and Palm House. To reserve Krohn Conservatory for a private event, click here. Note the Cincinnati Botanical Gardens Eden Park venue fee is $2,000 or $2,900 during the Holiday Show or Butterfly Show with a capacity of 150.
Cincinnati Art Museum weddings can be booked with several event spaces to choose from including the outdoor Alice Bimel Courtyard, the magnificent Great Hall, and more.
Hinkle Gazebo @ Hinkle Magnolia Garden for garden weddings and receptions. Click here for Cincinnati Parks garden wedding reservations.
Planning a smaller wedding? If your ceremony will have 20 or fewer people, you can hold a wedding ceremony anywhere in Eden Park that is not a reserve area!
Eden Park has had greenhouses since the 1880s, but the old buildings were replaced in 1930 with a new greenhouse conservatory. Cincinnati Parks created Krohn Conservatory with a distinctive Art Deco style out of glass and aluminum. It opened to the public in 1933.
Sometimes misspelled as "Crohn's Conservatory," Krohn Conservatory was named to honor Irwin M. Krohn, a long-time Board of Park Commissioner.
View this post on Instagram
Krohn Conservatory Cincinnati is home to more than 3,500 plant species. This beautiful conservatory in Cincinnati has several main collections:
Floral Show Room with a permanent collection of citrus trees and six seasonal floral shows
Bonsai Gallery with trees from private parties, the Bonsai Society of Greater Cincinnati, and the conservatory
Orchid House featuring thousands of orchids and about 75 orchids blooming at any given time
Desert House with cacti and succulents
Palm House, the most popular collection, is in the 45-foot central house of the conservatory and features rubber trees, palm trees, and bananas with a large waterfall and goldfish stream
Fern House with a large collection of ferns to walk through
Annual Butterfly Show @ Krohn
The Cincinnati butterfly garden transforms Krohn Conservatory during the spring and summer. It's a highly anticipated event every year. Tour the conservatory amid thousands of fluttering butterflies! The Krohn Conservatory Butterfly Show 2021 event featured the Butterflies of Bali and marked the 25th anniversary of the show.
View this post on Instagram
Krohn's Butterfly Show 2022 is Butterflies of the Nile, sending you back in time with an ancient Egyptian-themed garden and lush floral exhibit inspired by paintings on tombs and temples depicting Egyptian gardens with fish ponds, lotus plants, palms, and orchards.
The Butterfly Show Krohn holds requires special admission tickets with timed entry.
Krohn Conservatory Orchid Show
Krohn Conservatory has regular events throughout the year. The Cincinnati Orchid Show is held twice a year. The orchid show features creative displays and over 600 orchids for sale.
Krohn Conservatory Holiday Show
Every year, Krohn holds a holiday show with an outdoor nativity display and whimsical, intricately designed display. There are holiday trees, poinsettias, and a fun running train display which winds through lush foliage and a carefully designed Cincinnati theme. In 2021, the display included tiny replicas of Cincinnati landmarks like the Museum Center and Roebling Bridge made by local artisans with "Botanical Architecture."
View this post on Instagram
Krohn's Conservatory Hours & Location
Phone: (513) 421-4086
Krohn hours: Daily 10am to 8pm (early closing some days)
Krohn Conservatory admission price: $10 for adults, $7 for kids 4 to 17, and free for kids under 4 and Friends of Krohn
Membership: Friends of Krohn annual membership is $40/individual and $75/family and includes free admission and a 10% gift shop discount
The Cincinnati Art Museum, founded in 1881 and opened to the public in 1886, is a striking limestone Romanesque Revival building. It's one of the oldest art museums in the United States and it's home to more than 67,000 works – one of the largest art collections in the Midwest! Its permanent collection includes the Cincinnati Wing which houses exhibits created for the city or by Cincinnati artists.
One of the best art museums in Cincinnati, the museum regularly hosts international touring and national exhibits throughout the year. From the Van Gogh exhibit to the Terracotta Army, Cincinnati Art Museum has hosted some of the most anticipated art exhibits in the country.
Cincinnati Art Museum Weddings
Looking for an elegant reception or wedding venue? A Cincinnati Art Museum wedding can be booked with a variety of venue spaces with capacity of up to 400 (price varies by venue) and packages starting at $75/person.
View this post on Instagram
The art museum of Cincinnati offers many events and programs. One of the most popular Cincinnati Art Museum events is Art After Dark, an adults-only event with full access to the galleries after hours with live entertainment, cocktails, and more. Held on the last Friday of the month, Art After Dark events are carefully curated. One recent event combined live jazz with exhibits and workshops. Another featured swing dancing, big band music in the courtyard and a DJ on the Art Climb, food available for purchase, cash bars, and admission to a special exhibition.
Cincinnati Art Museum Art Climb – Steps @ CAM
The walkway from the corner of Eden Park Drive and Gilbert Avenue to the Cincinnati Art Museum is a visually striking and challenging climb. Known as the Art Climb, there are 165 steps, 16 landings, and four art plazas that lead up 9 stories to the museum.
View this post on Instagram
The new art climb, opened in 2020, features beautiful landscaping, lighting and security cameras, art installations, seating areas, and more. It's part of a multi-phase approach to give the museum grounds a new look, grow the museum's collection, and engage with the community.
You can access the art climb from the bottom at the Eden Park Dr & Gilbert Ave intersection, the main entrance parking lot at the top, or from side paths along the way.
Art Climb Steps at CAM, Gilbert Ave &, Eden Park Dr, Cincinnati, OH 45202
Cincinnati Art Museum Hours & Location
Phone: (513) 721-2787
Hours: Tuesday – Sunday 11am to 5pm
Admission: Visitors can view the Cincinnati Art Museum's permanent collection for free. Special events require separate, paid admission.
Cincinnati Art Museum parking: Parking is free at CAM lots. Use the front or DeWitt entrances.
Cincinnati Playhouse in the Park is a performing arts venue founded in 1959. It was one of America's first regional theaters. It's known for bringing many prominent plays to the city and hosts world premieres, national premieres, and more.
There are two Playhouse in the Park theaters: a larger Robert S. Marx Theater and a smaller Thompson Theater. They are currently building a state-of-the-art Mainstage Theatre Complex with the Rouse Theatre set to open to the public in 2023. Playhouse in the Park offers a 10-month season of plays plus classes and programs for kids.
Playhouse in the Park, Cincinnati Ohio Location & Schedule
Other Features & Things to Do in Eden Park
There's so much to see and do in Eden Park, it can be hard to know where to start. Here are some other attractions at Eden Park including historical sites, popular overlooks for city and river views, and the park's three lakes.
Elsinore Arch
Instantly recognizable to Cincinnatians, this historic arch was built in 1883 and it's at the main entrance to Eden Park. It was possibly inspired by Hamlet's Elsinore Castle and resembles a mini castle. Elsinore Arch or Tower was designed by the same firm behind Cincinnati's gorgeous Music Hall. Designed in the Romanesque Roman style of the Cincinnati Art Museum (dedicated just three years later), Elsinore Tower was originally a water works tower or valve house.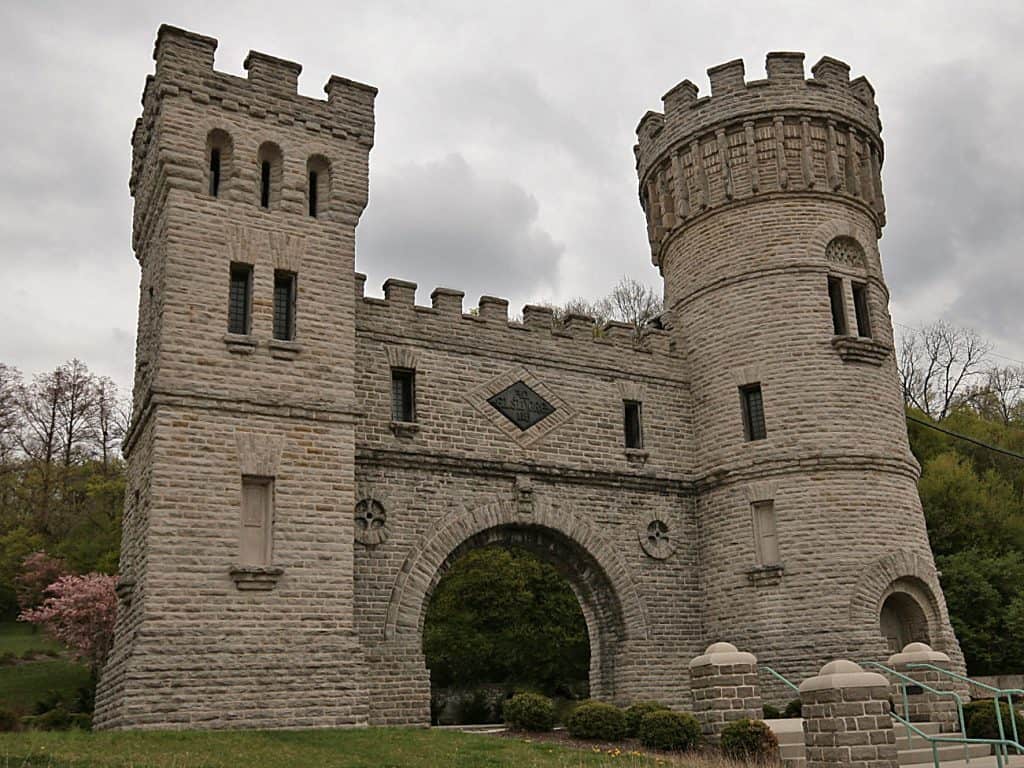 Mirror Lake
The iconic Mirror Lake in Eden Park was built in 1965, one of the park's newer additions. Before then, the lake was an open water reservoir. The 96-million-gallon Eden Park Reservoir was constructed between 1866 and 1878 and filled with water from the Ohio River pumped by the Eden Park Station No. 7. You can still see the Eden Park Standpipe, Station No. 7, and the dam.
You can also see a section of the old reservoir wall south of the lake. It's not uncommon to see recreational rock climbers using the rock wall as a bouldering wall.
Mirror Lake has a fountain that shoots a 60-foot geyser of water into the air.
View this post on Instagram
Eden Park Standpipe
The Eden Park Standpipe is an easily recognizable landmark. This ornate 125-year-old standpipe represents a common type of water tower in the 19th century. Standing 172 feet over Mirror Lake, it was built in 1894 and used until 1912.
Twin Lakes
The Twin Lakes area of the Cincinnati Eden Park is one of the most picturesque areas of the park. A trek up the hill from the gazebo, the lakes were once an abandoned limestone quarry.
There's plenty of public art around the Twin Lakes area including the bronze Capitolene Wolf statue and the Cormorant Fisherman, a gift from Cincinnati's sister city, Gifu, Japan.
Seasongood Pavilion
The pavilion is a beautiful outdoor venue that hosts concerts, plays, and events during the spring, summer, and fall. The concrete pavilion is nestled in a natural pavilion and easy to reach.
Seasongood Pavilion at Eden Park, 1600 Art Museum Dr, Cincinnati, OH 45202
Presidential Grove
There are five memorial groves throughout Eden Park. The largest and most visited is Presidential Grove, established with the first oak tree in President George Washington's memory in 1882.
Eden Park Overlook
Located by the Twin Lakes in the northeast corner of the park, the Overlook at Eden Park offers one of the best views in the city. The overlook area is now a car-free area so you'll need to take a short walk to enjoy the sweeping view of the Ohio River and Kentucky.
Hinkle Magnolia Garden
This picturesque garden area features tree groves, walking paths, and the Hinkle Gazebo, a reservable area popular for garden weddings. It's also home to Mirror Lake with the Bettman Fountain.
Vietnam Veterans Memorial
You can't miss the striking bronze statue of two soldiers atop the pink granite base that's inscribed with a Vietnam map. The monument depicts one soldier holding the utility belt of a comrade who was killed in action while another soldier comforts him. It was dedicated on April 8, 1984.
The area around the statue has been expanded with a respite garden designed to allow quiet contemplation and respite with seating and an accessible path.
Eden Park Vietnam Veterans Memorial, 986 St Paul Dr, Cincinnati, OH 45206
Eden Park Gazebo
The Spring House Gazebo at Eden Park is one of Cincinnati's most recognizable and photographed locations. The gazebo sits above a freshwater spring that was used by early residents. It's the oldest standing structure among parks in Cincinnati and serves as an icon for the park system. You can see the gazebo in the Cincinnati Park Board logo.
View this post on Instagram
Capitoline Wolf Statue
An iconic Cincinnati statue, this sculpture of a wolf nursing Romulus and Remus is found in the Twin Lakes area. It's a replica of the original Capitoline Wolf statue in Italy. There's an interesting story behind Cincinnati's Capitoline Wolf: it was gifted to Cincinnati by dictator Benito Mussolini to honor the revered Roman figure Cincinnatus, Cincinnati's namesake.
Melan Arch Bridge & Stone Eagles
This striking stone bridge was built in 1895 and it was Ohio's first poured concrete arch bridge reinforced with steel. It's recognizable for its four granite eagles standing 5 feet tall. These eagles were once on the dormers of the Chamber of Commerce building in downtown Cincinnati.
Tom Jones Commons
The latest addition to the Cincinnati Eden Parks landscape is the Tom Jones Commons, unveiled in 2021. The commons features a boardwalk, wetlands, landscaping, a natural play area, walking loop, and basketball courts. Tom Jones Commons is found just south of the Cincinnati Art Museum and Mirror Lake.
Tom Jones Commons in Eden Park, Parkside Pl &, Martin Dr, Cincinnati, OH 45202
Eden Park Cincinnati Map
Check the map below to find the Eden Park attractions and landmarks above. You can also find an Eden Park map from Cincinnati Parks for Eden Park parking and trail heads.
Ready to experience the beauty of Eden Park for yourself? You'll fall in love with this urban oasis whether you're a new Cincinnati resident or just visiting. If you're planning to relocate to the Cincinnati area, give us a call at Bell Moving & Storage for a free, affordable moving quote!