Are you moving to Cincinnati and exploring the right neighborhood to call home? If you're interested in apartment living and being close to the action, living in downtown Cincinnati may be just what you're after! The heart of Cincy, the Central Business District is home to Fountain Square, the main hub for events, as well as cocktail bars, restaurants, museums, two stadiums, and a riverfront area with a new music venue. You'll be within walking distance of the city's best attractions and all the fun next door across the river!
Is downtown Cincinnati a good place to live? Here's everything you'll fall in love with after moving to downtown Cincinnati and why it's one of the best Cincinnati neighborhoods!
Downtown Cincinnati History
Founded in 1788, Cincinnati began to grow rapidly when steamboats were introduced on the Ohio River in 1811. During its steamboat era, it was common for steamboats to transport not only goods and people to the downtown area but also traveling sideshows, theaters, and more.
In its early history, Cincinnati was an important destination for slaves escaping from the south. By 1859, Cincinnati had six streetcar lines in the downtown area. The hilly city was also once home to five inclines that transported people from downtown to Mt. Auburn, Mt. Adams, Bellevue, Price Hill, and Fairview. Below, you can see the Mt. Adams incline.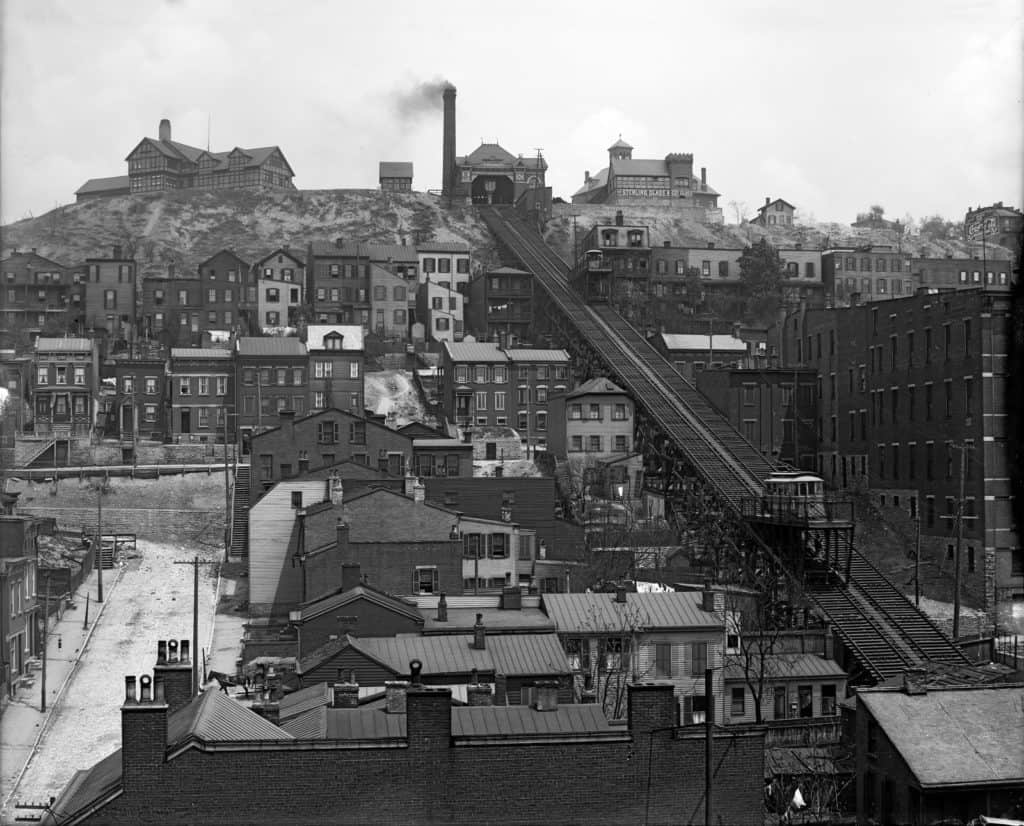 The history of downtown Cincinnati is still readily apparent with the neighborhood's many historic buildings. You'll see examples of Federal architecture, classic Italianate architecture (OTR next to downtown has the country's largest collection of intact historic Italianate buildings!), Victorian, Victorian Gothic, Queen Anne, and Art Deco architecture everywhere you look. Many of these historic buildings have been transformed into apartments as the Central Business District has become more residential.
Location & Transportation in Downtown Cincinnati
Downtown Cincinnati is located right on the Ohio River, walking distance from Covington and Newport, Kentucky across the river and in zip code 45202. The Central Business District is surrounded by the neighborhoods of Pendleton, the West End, Mt. Adams, and Over-the-Rhine (OTR), an historic district and Cincinnati's main nightlife hub.
Many people refer to surrounding neighborhoods as part of downtown, particularly Over-the-Rhine. The downtown area includes The Banks, the riverfront entertainment district of downtown Cincinnati with a new live music venue, a baseball and football stadium, and a large waterfront park.
While living in downtown Cincinnati, you'll be just 15 minutes from the Cincinnati/Northern Kentucky International Airport (CVG) and served by several major highways:
I-471 which connects it to Kentucky and I-275
I-275, an outer belt of Cincinnati with junctions with all the major interstates radiating from the city
I-71 which runs north-south
I-74 which begins at I-75 just outside downtown and runs east-west
I-75 which overlaps I-71 across the Brent Spence Bridge and runs north-south
View this post on Instagram
There are also several bridges over the Ohio River connecting downtown Cincinnati to Kentucky. The John A. Roebling Suspension Bridge is a downtown Cincinnati icon and the prototype for the Brooklyn Bridge. Pedestrians use the bridge to walk between hotels and bars in Kentucky and the stadiums downtown in Cincy. The Purple People Bridge is a pedestrian-only bridge connecting downtown Cincy to Newport, KY.
Unfortunately, Cincinnati public transportation options are limited. However, downtown residents are within walking distance of nightlife, restaurants, museums, and parks in Newport, Covington, and Over-the-Rhine. There's also a streetcar connecting OTR and downtown.
Lifestyle, Culture & Demographics – What's It Like Living in Downtown Cincinnati?
Downtown is Cincinnati's central business district, the economic hub of the city known for its finance industry. The downtown Cincinnati population is about 17,500. This includes all of the 45202 zip code including Over-the-Rhine, Pendleton, and part of the East End. The downtown population has doubled over the last decade thanks to rehabilitation and conversion of old office buildings into new mixed-use and residential developments. On weekdays, the population swells to 110,000 people as the central business district is largely comprised of office buildings and banks.
What is living in downtown Cincinnati like and who calls the urban core home? Downtown has a large population of young professionals with an average age of 36 and 60% of residents living alone. About 25% of people walk to work thanks to downtown's rather small footprint and high concentration of retail and office jobs.
View this post on Instagram
Residents enjoy a vibrant downtown area with frequent events like live music and festivals, nightlife, sporting events, and restaurants all within walking distance.
What is there to do in downtown Cincinnati? The heart of downtown is Fountain Square, the primary gathering place and an entertainment and restaurant hub. Catch live music and events on the Square, including free live music in the summer, ice skating and bumper cars in the winter, and food festivals in the spring.
The Banks, just two blocks away on the riverfront, is another dining and entertainment hub. This mixed-use development is home to sports bars, nightlife, Smale Riverfront Park, and the Andrew J Brady ICON Music Center, Cincinnati's newest music venue that opened in 2021 with the Foo Fighters. The Banks is easily found between Paul Brown Stadium (home of the Cincinnati Bengals) and the Great American Ball Park (Cincinnati Reds). Nearby, Sawyer Point Park & Yeatman's Cove is one of the best things to do in Cincinnati with kids with a fun playground and waterfront path.
View this post on Instagram
Just a short walk from Fountain Square is Over-the-Rhine, the heart of Cincinnati's nightlife and an important historic district. Just before crossing from the Central Business District to OTR is the Cincinnati Music Hall, one of the most important landmarks of Cincinnati. This gorgeous example of Gothic architecture is home to the Cincinnati Opera, Cincinnati Ballet, and Cincinnati Symphony Orchestra. The concert hall is right in front of Washington Park, a central gathering spot with a dog park, splash pad and playground, and open green space.
In addition to the symphony and opera, you'll find other cultural attractions in the downtown area. The National Underground Railroad Freedom Center is one of several top-rated museums in Cincinnati in or near downtown while the historic Taft Theatre next to Fountain Square hosts comedy and music performances.
After moving to downtown Cincinnati, you can find plenty of nearby shopping. Down to Mars Vintage is an upscale vintage thrift shop while MiCA 12/v is a fun independent gallery and gift boutique that's always worth a visit. Carew Tower, containing the Hilton Cincinnati Netherland Plaza, is the biggest shopping destination downtown with the Carew Tower Arcade and Tower Place Mall. These shopping areas are connected to surrounding buildings like Fountain Place, currently being redeveloped into office and retail space.
Don't forget – while living in downtown Cincinnati, you can also walk to the nightlife, shopping, and entertainment districts in Newport and Covington, KY with an outdoor shopping complex and a new live music venue!
Finally, you'll find excellent restaurants in downtown Cincinnati, whether you're looking for a great place for breakfast, fine dining, or classic American cuisine. Here are some of the best.
Blind Pig. This cozy neighborhood pub serves up some of the best burgers in the city plus local craft beer with a rooftop bar. Blind Pig, 24 W 3rd St, Cincinnati, OH 45202 (513) 381-3114
Court Street Lobster Bar. This laidback restaurant focuses on New England cuisine with classics like lobster rolls and lobster mac and cheese plus a large selection of wine and beer. Court Street Lobster Bar, 28 W Court St, Cincinnati, OH 45202 (513) 246-0184
Maplewood Kitchen and Bar. This is one of the best places to eat in downtown Cincinnati for breakfast and brunch! Enjoy California cuisine with wine, mimosas, and organic ingredients. Maplewood Kitchen and Bar, 525 Race St, Cincinnati, OH 45202 (513) 421-2100
View this post on Instagram
Where to Find Everything
Here's where to find all the downtown Cincinnati attractions we just explored!
Fountain Square, 520 Vine St, Cincinnati, OH 45202 (513) 621-4400
Cincinnati Music Hall, 1241 Elm St, Cincinnati, OH 45202 (513) 744-3344
Washington Park, 1230 Elm St, Cincinnati, OH 45202 (513) 621-4400
Taft Theatre, 317 E 5th St, Cincinnati, OH 45202 (513) 232-6220
Down to Mars Vintage, 621 Main St #1a, Cincinnati, OH 45202 (513) 399-6558
MiCA 12/v, 1201 Vine St, Cincinnati, OH 45202 (513) 533-1974
Hilton Cincinnati Netherland Plaza, 35 W 5th St, Cincinnati, OH 45202 (513) 421-9100
Map of Downtown Cincinnati
Downtown Cincinnati Real Estate – How Much Does it Cost to Live in Downtown Cincinnati?
After moving to downtown Cincinnati, do you plan to rent or buy? The downtown Cincinnati housing market isn't very competitive, but it's dominated by rentals with few homes for sale. If you're planning to buy, you'll pay an average of $283,000 or $228/square foot for a condo.
The average rent in downtown Cincinnati is $1,664. It's the most expensive place to live in Cincinnati – the citywide average rent is only $1,100 according to RentCafe.
The Central Business District has several new apartment buildings and mixed-use developments with many apartment buildings in restored or converted buildings from the 1890s to 1930s. Fourth & Plum apartments offers studio to two-bedroom apartments in an historic building formerly the Gas-Light & Coke. The nearby City Club Cincinnati apartments are in an historic 11-story building built as an annex to the PNC Tower in 1928. Both buildings are just a few minutes' walk from The Banks and the riverfront.
There are also two apartment complexes at The Banks: Current and Radius at the Banks. These luxury studio apartments, right next to the ballpark and stadium, start at $1,000 per month.
While living in downtown Cincinnati, you'll be served by Cincinnati Public Schools. Schools serving downtown include the School for Creative and Performing Arts magnet school and Rothenberg Preparatory Academy.
View this post on Instagram
Is moving to downtown Cincinnati in your future? With a low cost of living for a downtown area in a major city, exciting attractions within walking distance, and riverfront living, the Central Business District is definitely the place to be for young professionals who appreciate convenience and nightlife. When you have a moving date on the horizon, give us a call at Bell Moving & Storage so we can put a century of experience to work for you with an easy, stress-free moving day!