Are you moving to Cincinnati or relocating within the area? If you have young kids or you're planning to start a family, the quality of the education is probably at the top of your list. Cincinnati school districts are among the best in the state, and the Greater Cincinnati area is home to dozens of award-winning preschools and pre-K schools that give your child the best possible start in life.
This guide covers the top 10 best preschools in Cincinnati including Montessori, private, public, Jewish, and Catholic preschools.
Choosing the Best Preschool in Cincinnati
Choosing the right preschool for your child can be a massive undertaking. There are many types of preschools with vastly different curriculums, activities, and learning styles. Here's answers to some questions that may help you decide where to start.
What age does preschool start?
To enroll in preschool, a child usually must be 3 years old by September 30.
What is the age range for a preschool?
Preschool is for children who are 3 to 5 years old. Some schools allow students as young as 2.5 years old to enroll.
Is pre-K the same as preschool?
Officially, there is no difference between preschool and pre-K programs. However, pre-kindergarten may have more structured classroom time and less play. Preschool is usually for kids who are 3 to 4 while pre-K classrooms are for students who are 4-5 and preparing for kindergarten the next year.
What is the difference between a daycare and a preschool?
Preschool is designed to prepare children for kindergarten with a structured curriculum and lesson plans in addition to play and discovery. Daycare also offers educational and learning activities, but there is no set curriculum or lesson plans with more informal play.
What is a Montessori school?
Montessori schools offer a child-led education that lets students work in groups or independently at their own pace and following their own interests. It discourages standardized testing and recognizes that all students learn in their own way by fostering self-motivated growth.
Is preschool free in Ohio?
Families that meet income qualifications are eligible for low-cost or free preschool in Cincinnati. The federally funded Head Start program is one option. Cincinnati Public Schools preschool and many private preschools offer reduced tuition. You may also qualify for a grant for free/reduced tuition.
The Campus at Kids First – Cincinnati Preschool Emphasizing Physical Education with Soccer, Dance, Gymnastics & More
The Campus at Kids First is one of the most unique pre-K schools in Cincinnati! The early learning center offers a preschool curriculum that emphasizes physical education. The all-inclusive curriculum targets the brain-body connection and gives students lots of time to develop motor skills in the 108,000-square-foot facility.
Classrooms promote cooperative play and allow kids to choose how they learn. Over two hours each day is spent in structured physical activity classes and unstructured play in the Kids First facility. Once per week, students enjoy classes included in tuition such as preschool gymnastics/tumbling, basketball, yoga, soccer, or dance.
The Campus at Kids First, 7900 E Kemper Rd, Cincinnati, OH 45249 (513) 629-5437
View this post on Instagram
Head Start Cincinnati – Federally Funded Preschools in Cincinnati for Low-Cost or Free Pre-K Learning
Head Start offers federally-funded Cincinnati preschool programs to prepare kids for kindergarten. Head Start preschool is offered at no cost to income-eligible families, but space is limited.
Head Start offers a comprehensive approach to meet the needs of Cincinnati children:
Health services including nutritious meals
Parent involvement
Social services
Education with a balanced preschool curriculum
There are 46 sites in Cincinnati that offer Head Start in three formats, including full-day, morning half-day, and afternoon half-day. The Community Action Agency (CAA) directly provides Head Start preschool at six locations and with partnerships at local childcare centers. Head Start preschools in Cincinnati operated directly by CAA include:
Camp Washington Early Learning Academy in Camp Washington
Discovering Minds Learning Center in the Corinthian Baptist Church in Bond Hill near Norwood
Life Learning Center, a 5-star award winner, in Bond Hill
Winton Campus Early Learning Academy in Winton Hills
Millvale Early Learning Academy in Millvale
Theodore M. Berry Children & Family Learning Center in West End, Cincinnati
If you live within the Cincinnati Public Schools (CPS) district, your child can enroll in a public preschool as long as they are at least 3 years old by September 30. The district has 42 preschool programs including 13 magnet preschools. The magnet schools are competitive and have a waitlist. If your child is accepted into a Cincinnati magnet preschool, they can continue to higher grades in the magnet school.
Here are the two top-rated citywide public magnet preschools in Cincinnati. Both are rated five stars by the Ohio Department of Education.
Tuition at the schools is $3,700 for half-day and $7,000 for full-day preschool with free and reduced tuition available for low-income families. You must apply for a magnet school preschool in CPS.
Academy of Multilingual Immersion Studies, 1908 E Seymour Ave, Cincinnati, OH 45237 (513) 363-1800
Academy of World Languages, 2030 Fairfax Ave, Cincinnati, OH 45207 (513) 363-7800
See additional Rising Stars preschools in CPS that offer comprehensive preschool programs in Cincinnati below.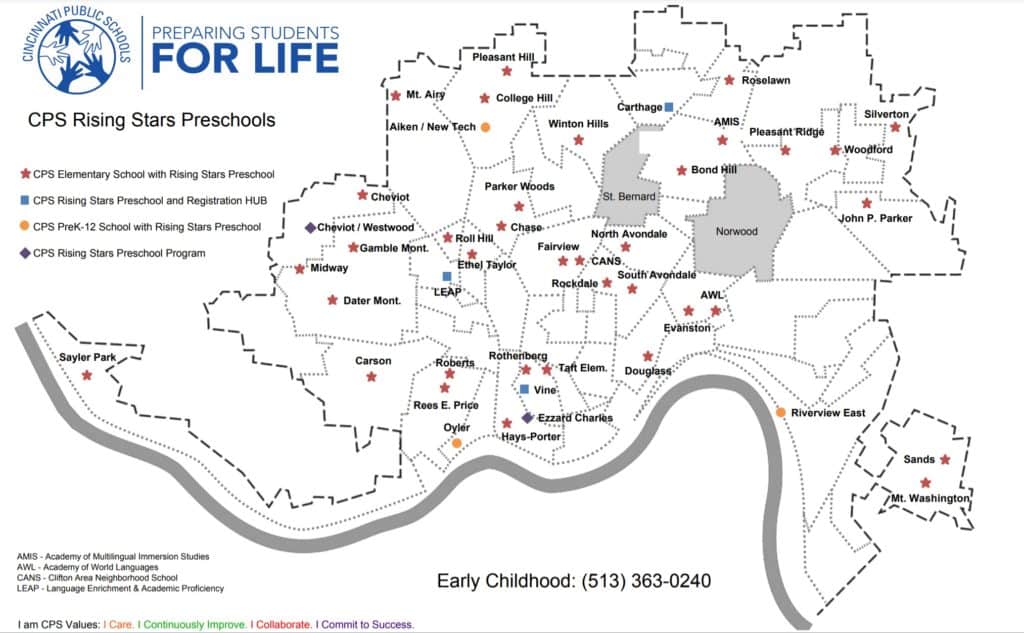 The Gardner School of Blue Ash is one of Cincinnati's best preschools. This private school in Blue Ash offers academically-focused learning in a state-of-the-art preschool center with safe play areas and a blend of traditional and Montessori learning. The preschool program is centered on structured play, child-directed activities, and research-based curriculum lessons.
The facility offers on-site enrichment classes like piano, dance, arts, sports, and foreign language with large indoor and outdoor play areas and a Kids Café for healthy meals. Classrooms have different types of seating spaces to encourage cooperative and small group activities with learning centers so kids can explore their own interests like dramatic play, sensory exploration, and computers. Parents receive real-time updates through a communications app for naps, meal times, and photos.
The Gardner School of Blue Ash was established in 2008 and it has already earned a reputation as one of the best preschools in Cincinnati, Ohio. It's the winner of the 2019 Best of Parenting award from Cincinnati Family.
Gardner School of Blue Ash, 9920 Carver Rd, Blue Ash, OH 45242 (513) 985-9444
Chai Tots Early Childhood Center – Ohio's Only Jewish Montessori School with Formal and Informal Learning Opportunities
Located in Mason, one of the best suburbs in Cincinnati for families, Chai Tots is the state's only Jewish Montessori school. This unique Cincinnati preschool teaches young children life skills, interpersonal relationships, and emphasizes strong academics. Each student receives a customized curriculum with individual attention.
The preschool program places special attention on mathematics, language, sensory learning, and practical life skills with cultural, music, and art activities. Children learn independence with practice performing tasks like carrying water, buttoning, and sweeping.
The traditional Montessori learning model is incorporated with Jewish traditions, cooperative play, and Hebrew language. Students also learn Jewish pride and traditions incorporated into the learning environment such as fire safety during Chanukah and education about honeybees, apples, and honey during Rosh Hashanah.
Chai Tots Early Childhood Center, 7587 Central Parke Blvd, Mason, OH 45040 (513) 234-0600
Seven Hills School – Top-Rated Private School in Cincinnati for Pre-K to 12
Seven Hills is an award-winning private school in Cincinnati. 100% of students go on to attend a 4-year college and teachers have 18 years of teaching experience, on average. The school prides itself on diversity, inclusion, and equity and uses the Seven Hills Method to guide students on their own path. They offer a huge range of experiences including co-curricular programs, athletics, and arts.
The Seven Hills School preschool experience offers regular exposure to drama, music, arts, Spanish, technology, and physical education with Signature Programs at every age group. During early childhood, education focuses on language, cognition, sensory and motor skills, creativity, and social and emotional well-being.
View this post on Instagram
The Seven Hills School offers early childhood and pre-kindergarten programs at both of its locations for kids 3 to 5 years old:
Seven Hills Doherty Lower School in East Walnut Hills (Doherty Campus)
Seven Hills Lotspeich Lower School in Madisonville (Hillsdale Campus)
Tuition ranges from $13,150 to $20,090. Learn about Cincinnati preschool tuition at Seven Hills School.
Seven Hills School – Hillsdale Campus, 5400 Red Bank Rd, Cincinnati, OH 45227 (513) 728-4200
Seven Hills School – Doherty Campus, 2726 Johnstone Pl, Cincinnati, OH 45206 (513) 728-2400
The Compass School – One of the Best Cincinnati Preschools & Daycares with Reggio Emilia-Inspired Curriculum
The Compass School of Cincinnati serves families in Loveland, Mason, South Lebanon, and northeast suburbs of Cincinnati with a Reggio Emilia-inspired curriculum. The facility is accredited by the NABYC and inspires learning in kids through collaboration, creative exploration, and project-based learning.
The Compass School offers a unique Nature Explorers Program that immerses children in the outdoors. Meeting under the outdoor pavilion, students learn through songs, books, and exploration of the school's Schoolyard Habitat certified by the National Wildlife Federation. The educational experience incorporates everything from dramatic play, art, and music to nature, science, math, and motor development.
Families can choose between half-day or full-day preschool near Cincinnati with two, three, or five-day classes.
The Compass School, 9370 Waterstone Blvd, Cincinnati, OH 45249 (513) 683-8833
Kennedy Heights Montessori Center – Tiered Tuition at One of Cincinnati's Best Montessori Preschools
KHMC has offered young students a high-quality Montessori education for more than 50 years. This highly-rated Cincinnati Montessori preschool offers a curriculum based on the Montessori Method which involves free activity inside a prepared educational environment. This method discourages the use of standardized measures of achievement like tests and grades and instead assumes all students learn in their own way. Montessori schools use specially trained teachers, plenty of uninterrupted work time, and student freedom to choose their own activities.
At the Kennedy Heights Montessori Center, preschoolers benefit from a supportive, nurturing environment. Students work with certified Montessori teachers and engage in purposeful, spontaneous activities under a teacher's guidance.
KHMC tuition is tiered and based on a family's income. The school accepts subsidies from United Way and Ohio Jobs & Family Services with reduced tuition for Kennedy Heights residents.
Kennedy Heights Montessori Center, 6620 Montgomery Rd, Cincinnati, OH 45213 (513) 631-8135
Guardian Angels School – Blue Ribbon Catholic Preschool & K-8 School in Cincinnati's Mt. Washington Neighborhood
Guardian Angels School is one of the top Roman Catholic preschools in Cincinnati. Awarded the Blue Ribbon of Excellence and 5 stars by the Department of Education, the school serves families in the Mt. Washington neighborhood with full-day preschool and pre-K programs and after school care. The preschool program has tuition of $4,860 plus a $175 registration fee.
The Guardian Angels School has a preschool class of 45 students with enrollment opened to Guardian Angels parishioners before an open enrollment period.
The school offers many learning opportunities for students at all ages including gifted and accelerated learning, extra-curricular activities, and community service. Young students also receive a Catholic education to help them reach their spiritual, social, and academic potential. Students participate in worship services and prepare for the First Communion in second grade.
Guardian Angel School, 6539 Beechmont Ave, Cincinnati, OH 45230 (513) 624-3141
Top Cincinnati Preschools Map
Have you settled on the right preschool for your child? Whether you're planning to settle within the city of Cincinnati or one of the many suburbs, you'll find tons of great neighborhoods where your child will get an amazing education. Once you've narrowed down your options, the award-winning movers at Bell Moving & Storage are ready to help with a seamless relocation.